Boeing 767-300 ER
In spring 2016, Icelandair added two wide-body Boeing 767-300s to its fleet. These aircraft are larger than the 757s, and their greater seating capacity and extended flight range make them ideally suited for non-stop long-haul flights.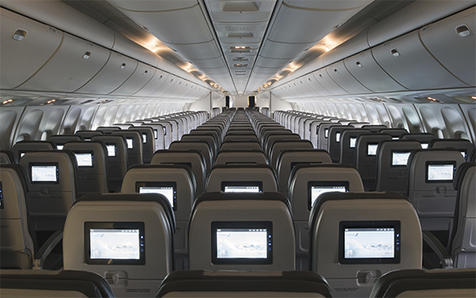 General information
The Boeing 767 is a medium-to-large wide-body twinjet aircraft that was originally conceived as a smaller alternative to earlier makes such as the 747. It was the first twinjet to be approved for extended overseas flights, and its impressive flight range has enabled the expansion of services on intercontinental routes. 767s are produced in three lengths, with the Boeing 767-300 ER longer than the original model by 6.43 m (21'). 
Our aircraft
Icelandair's 767s have 262 seats, arranged 2-3-2 in Economy Class, as well as Economy Comfort where the middle seat in the middle section of the plane is removed for extra comfort. In Saga Class, the arrangement is 2-1-2. The cruising speed is 851 km/h (530 mph), and their flight range of up to 7,890 km (4,900 mi) makes them the first choice for long-haul routes. In addition to the in-flight entertainment, gate-to-gate Wi-Fi access and complimentary beverages, Icelandair passengers can join the Saga Club loyalty programme for added benefits.