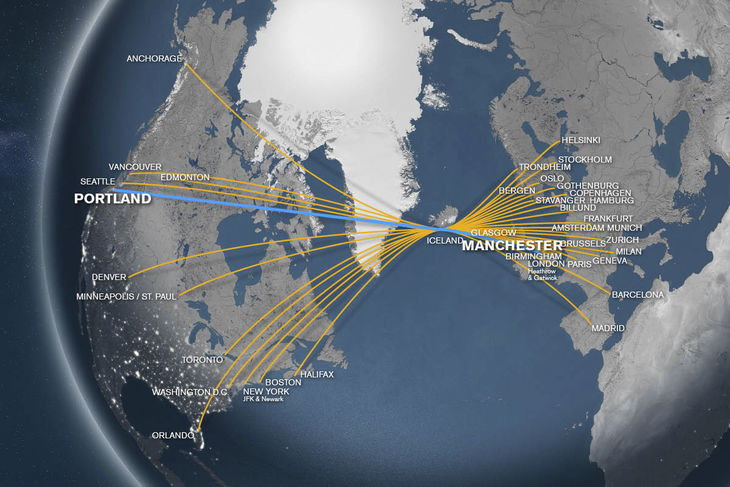 Book flights from Manchester (MAN), England to Portland (PDX), in the US. Icelandair offers low fares on flights to Portland, Oregon. Plan your holidays in the States, book your flights, buy your airline tickets, and fly to free spirited Portland! When you fly Icelandair, trusted for over 75 years, you can enjoy: our great on-time performance, our extensive and fun entertainment system, and who knows, you may even learn to speak like a Viking.
CHEAP FLIGHTS TO THE US
Use Icelandair to fly from Manchester, England to the US. On your way, stop briefly in Iceland to change planes or linger a bit longer and sample the wonders of Iceland. You can stroll along the quaint, historic streets in Reykjavik 101 or hire a car and in a matter of minutes be in the great, Icelandic outdoors with breathtaking views of mountains and fjords. Wave goodbye to rainy, grey mornings and shopping at The Trafford Centre and book tickets to fly to Portland in the gorgeous, green state of Oregon.
For an abundance of rose gardens and coffee houses Portland has much to offer. Often awarded the greenest city in America and hailed "the capital of karaoke" by The New York Times, Portland is good for the soul and the spirit. Ready for an adventure? You can experience an earthquake, tour a submarine and travel across the universe in a planetarium, at OMSI, Oregon Museum of Science and Industry.
Check Icelandair's cheap tickets from Manchester, (MAN) England to Portland, (PDX) Oregon and start planning your holidays now! 
FLY TO THE US: MAN TO PDX AIRPORT INFO:
Make fast, easy connections with Icelandair. Our flight network is set up to easily change planes and connect to your onward flight. Flights from Europe to North America are scheduled so that stopovers in Iceland are typically between 30 and 60 minutes.
Travelers from Manchester (MAN), England to Portland (PDX), Oregon who want to explore Iceland can extend their stopover at no extra cost. Why not relax and revive in the calming waters of the beautiful Blue Lagoon or explore colorful Reykjavik?
The distance from Manchester Airport (MAN) to Portland International Airport (PDX) is approximately 7,641 km or 4,748 miles.
The airport in Portland is approximately 15 km north east of downtown Portland.
Portland Airport has free Wi-Fi meaning you can always stay connected.
Did you know that there's a cycle and pedestrian path that connects Portland International Airport to regional trains?
To reach downtown Portland it's an easy 20-30 minutes by taxi or 40 minutes' journey by light rail.
What's stuðlaberg? On routes from the UK we want you to feel like you've learned a little about Icelandic culture, so we've added bits and pieces of info about our country all around the plane, even naming each food item after natural wonders of the country.
Shorten your flying time! Because of Icelandair's northerly routes, the duration of flights from Manchester to Portland is often significantly less than other airlines.
Icelandair will start flying a seasonal flight from Manchester, England to Portland, Oregon from May through until October, 2015.
On flights from Manchester to the US you can: learn a few Icelandic phrases, taste an Icelandic donut, and even try some of our refreshing, glacial water.
A complimentary warm meal for children is served on all Icelandair flights from the UK to the US. And the packaging transforms into a cool, creative kid's toy –
We want you to relax on your holidays in the US. Blankets & pillows are in every seat on European routes to North America—they even come with an Icelandic lullaby written on them.
For a little piece of luxury, fly Saga Class. Enjoy elegant dining from our gourmet food and drinks menu and savor plenty of quiet time with our noise cancelling earphones.
The personal inflight entertainment system is available on nearly every flight from Manchester to Portland and it offers a full range of entertainment for you and your family. Go ahead, let your kids catch up with the colorful characters of Lazy Town.
Love film? So do we! That's why we've carefully selected a range of amazing films. We've some of the latest blockbusters, old classics, documentaries and even Icelandic films (and yes, we've been kind and given you subtitles).
Use Icelandair to fly from Manchester, England to Portland, Oregon for your next vacation and you will have the unique pleasure of flying the only airline in the world that names its planes after volcanoes. Now try to pronounce this one: Snæfell. Like a little help? Try it like this: Snigh-fetl. Well done!
You can get directly from downtown Portland to Portland International Airport (PDX) via MAX light rail train.
With workshops, lecture rooms and a gift shop, learn about arts and craft in Portland's Museum of Contemporary Craft, the oldest continuously running craft museum in the States.
Looking to blend some sightseeing with a work out? Portland's Forest Park has over 70 miles of trails allowing you to enjoy Oregon's great outdoors. So pack those running shoes.
Can't decide what to eat? No problem! Have a little of everything and sample the many food carts helpfully grouped in "pods" around Portland.
Share flights from Manchester to Portland