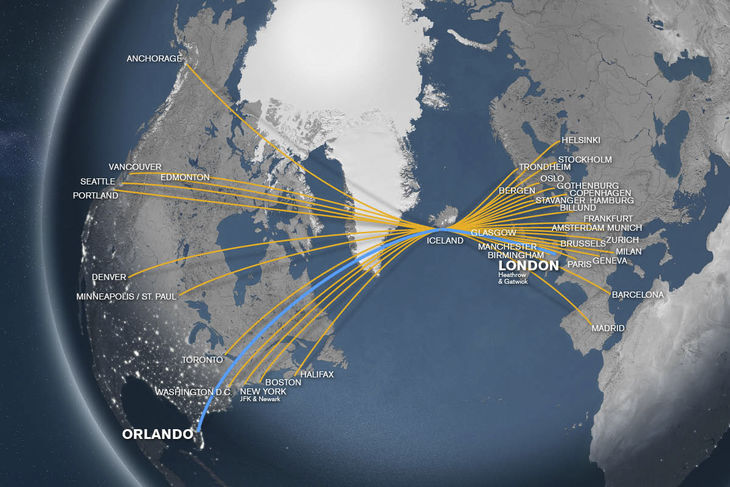 Book flights from London, England (LHR / LGW) to Orlando, Florida (MCO). Icelandair offers low fares on flights to Florida.  Plan your trip to Orlando, book your flights, buy your airline tickets, fly from London, and enjoy your holiday in Orlando! When you fly Icelandair, trusted for over 75 years, you can enjoy: our great on-time performance, a one-checked bag (except for Economy Light fares), a reduced flying time because of our short northerly routes, and who knows, you may even learn to speak like a Viking.
Cheap flights to Florida
Use Icelandair to fly from London to Orlando, Florida. On your trip to Florida, stop in Iceland to quickly change planes or to stay a while and make the most of your vacation. Enjoy charming and cosy Reykjavik, ride an Icelandic horse along the seashore, or climb a glacier. So say goodbye to London fog and grey mornings and book tickets to fly to Florida.
In warm, sunny Florida, pretend you are a kid again at Disneyworld! Ride Space Mountain, pretend you are one of the Pirates of the Caribbean, hug Mickey Mouse, or smile under the exploding fireworks at the Magic Kingdom. But Florida is more than Disneyworld, Universal Studios, and Sea World. Beyond the theme parks are gorgeous beaches, everglades teeming with wildlife, and of course the hopping nightlife of Miami. Use Orlando as your starting point for your sunny, warm holiday in Florida. Check Icelandair's cheap tickets from London, England (LHR) to Orlando (MCO) and plan your vacation now! 
Enjoy a stopover in Iceland!
Flying from London to Orlando? Take advantage of an Iceland stopover for up to seven nights at no additional airfare. Even if you just visit for 24 hours you can do things like soak in the Blue Lagoon, wander along black sand beaches or ride a horse across a lava field. But of course we recommend you stay even longer!
Fly to Florida: LHR to MCO airport info:
Make fast, easy connections with Icelandair.  Our flight network is set up to easily change planes and connect to your onward flight. Flights from London to Orlando are scheduled such that stopovers in Iceland are typically between 30 and 60 minutes.
Travellers from London, England to Florida who wish to explore Iceland may be able to extend their stopover to have time to soak in the hot waters of the beautiful Blue Lagoon or explore the charming capital of Reykjavik.
*The distance from Birmingham Airport (BHX) to Orlando International Airport (MCO) is approximately 4,258 miles/6,853 km.
*Orlando International Airport is 6 miles south east of Orlando, Florida. The airport has a main terminal divided into two, terminal A and B, and four concourses. There's also a hotel, the Hyatt Regency, in the main terminal itself.
*Orlando International Airport (MCO) has an AGT train system within the airport. Although these train journeys take mere minutes you get a fabulous view of the gardens and waterways of the airport on these short trips.
*Orlando International Airport (MCO) has a host of car rentals, limousines and shuttles and if you're staying at a Walk Disney World Resort Hotel there's a complimentary coach service.
There's Disneyworld with various lands and the Epcot Centre, Universal Studios, Sea World and numerous other themed-amusement parks. In Orlando, there are attractions at every turn.
The Orlando International Airport (MCO) is 9 miles from downtown Orlando.
What's hraunhella? On routes from the UK to North America, we want you to feel like you've learned a little bit about Iceland, so we've added glimpses of info about our country all around the plane, even naming each food item after natural wonders of the country.
Shorten your flying time! Because of Icelandair's northerly routes, the duration of flights from London to Orlando are often significantly less than other airlines.
Transatlantic flights from LHR to MCO typically use two types of aircraft: Boeing 757-200 or Boeing 757-300
On flights from London to Florida you can: learn a few Icelandic phrases, taste an Icelandic donut, and even try some of our delicious glacial water.
A complimentary warm meal for children is served on all Icelandair flights from Europe to the USA. And the packaging transforms into a cool, creative kid's toy.
Relax on your holidays in Florida. Blankets & pillows are in every seat on European routes to North America—they even come with an Icelandic lullaby.
The personal inflight entertainment system is available on nearly every flight from London to Florida and it offers a full selection of programming for you and for children too. Go ahead, let your kids watch dozens of episodes of Lazy Town.
Use Icelandair to fly from London, England to Orlando for your next vacation and you will have the distinct pleasure of flying the only airline in the world that names its planes after volcanoes. Now try to pronounce this one: Eyjafjallajökull.
You can access Orlando's International Airport (MCO) by car, shuttle bus, or taxi (approximately 20 minutes driving time from MCO to Disneyworld).
Go ahead and imagine yourself napping on a hot, sandy beach or swimming in the warm ocean in Florida. Now go book your dream holiday.
Share flights from London to Orlando