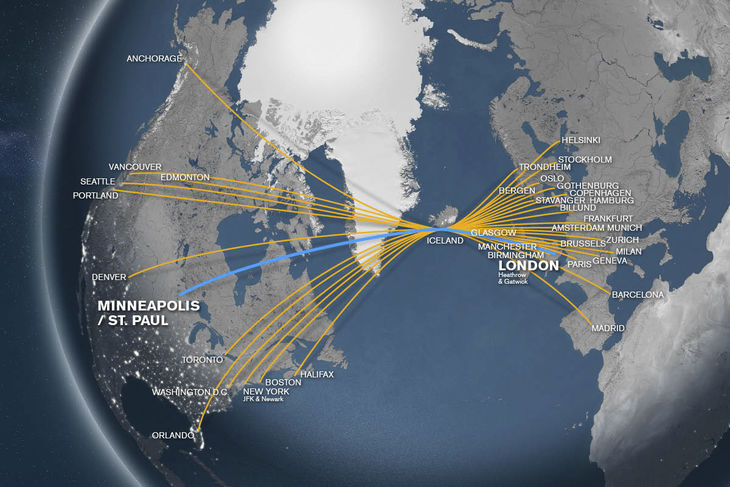 Book flights from London, England (LHR / LGW) to Minneapolis (MSP). Icelandair offers low fares on flights to Minneapolis, Minnesota.  Plan your trip to Minneapolis, book your flights, buy your airline tickets, and fly from London to Minneapolis! Enjoy your holidays in Minneapolis when you fly Icelandair. Trusted for over 75 years, with Icelandair you can enjoy your trip to Minneapolis and: our great on-time performance, a one-checked bag (except for Economy Light fares), a reduced flying time because of our short northerly routes, and who knows, you may even learn to speak like a Viking.
Cheap flights to Minneapolis
Use Icelandair to fly from London to Minneapolis. On your trip to Minneapolis, stop in Iceland to quickly change planes or stay a while and make the most of your vacation. Enjoy sipping hot coffee in the charming cafes of Reykjavik, hiking to the top of a glacier, or looking for puffins atop a high sea cliff. Say goodbye to Buckingham Palace, the Tate Modern Museum, High Street, and Big Ben, and book tickets to fly to Minneapolis.
In the heart of the Midwest, the friendly sister cities of Minneapolis and St. Paul, Minnesota offer everything from the Mall of America to hundreds of parks and gardens. Modern art enthusiasts will marvel at the Walker Art Center while shoppers and diners enjoy world-class cuisine and great restaurants downtown. In the capital of the land that boasts 10,000 lakes, you won't want to miss a chance to to play in the water or along the shore with a stroll, jog, sail, rollerblade, or if it's winter, with a game of ice hockey. Check Icelandair's cheap tickets from London, England (LHR) to Minneapolis, Minnesota (MSP) and plan your holidays now! 
Enjoy a stopover in Iceland!
Fly to the USA from the UK! If flying from London to Minneapolis, why not stopover in Iceland! You could simply change planes and be in and out of the airport in under an hour or take a few extra hours and head over to soak in the hot waters at the Blue Lagoon. Or make the most of your trip to Minneapolis and stay up to 7 days at no extra charge. That way, you'll have a chance to wander the small streets in charming Reykjavik, climb to the top of a glacier, look for the northern lights, or head to sea to go whale watching. When you fly with Icelandair we take the quickest, shortest northerly route, saving you time.
Fly to Minneapolis: LHR to MSP airport info:
Make fast, easy connections with Icelandair.  Our flight network is set up to easily change planes and connect to your onward flight. Flights from London to Minneapolis are scheduled such that stopovers in Iceland are typically between 30 and 60 minutes.
Travellers from London, England to Minneapolis who wish to explore Iceland may be able to extend their stopover to have time to soak in the hot waters of the beautiful Blue Lagoon or discover the cosy capital of Reykjavik.
The distance from LHR, London Heathrow Airport in London, England to Minneapolis St. Paul International Airport (MSP) is approximately 6,450 kilometres or 4,008 miles.
The full name of the airport is Minneapolis St. Paul International Airport (MSP).
MSP is located approximately 16 kilometres or 10 miles from downtown St. Paul and downtown Minneapolis. It's right between the two cities.
You can easily get from downtown Minneapolis or St. Paul to MSP by city and shuttle buses, taxi (15 min+), and light rail (25 min.)
A train (light rail) from the MSP Airport to Mall of America is only 12 minutes.
What's stuðlaberg? On routes from the UK to North America, we want you to feel like you've learned a little bit about Iceland, so we've added glimpses of info about our country all around the plane, even naming each food item after natural wonders of the country.
Transatlantic flights from LHR to MSP typically use two types of aircraft: Boeing 757-200 or Boeing 757-300
On flights from London to Minneapolis you can: learn a few Icelandic phrases, taste an Icelandic donut, and even try some of our delicious glacial water.
A complimentary warm meal for children is served on all Icelandair flights from the UK to the American Midwest. And the packaging transforms into a cool, creative kid's toy.
We want you to relax on your holidays in Minneapolis. Blankets & pillows are in every seat on European routes to North America—they even come with an Icelandic lullaby.
The personal inflight entertainment system is available on nearly every flight from London to Minneapolis and it offers a full selection of programming for you and for children too. Go ahead, let your kids watch dozens of episodes of Lazy Town.
Use Icelandair to fly from London, England to Minneapolis, Minnesota for your next vacation and you will have the distinct pleasure of flying the only airline in the world that names its planes after volcanoes. Now try to pronounce this one: Snæfell.
The Minneapolis St. Paul International Airport is the largest in the Midwest region. For this reason, many use this airport to connect them to an onward destination either by car, rail, or another flight.
Why is it called the Twin Cities? Minneapolis and St. Paul are adjacent and both large cities. Minneapolis has a larger population and St. Paul is the state capital.
Got a long layover, jump out of MSP and head over to the Mall of America. It's only a 10 minute train ride away. (Just make sure you leave plenty of time).
Share flights from London to Minneapolis