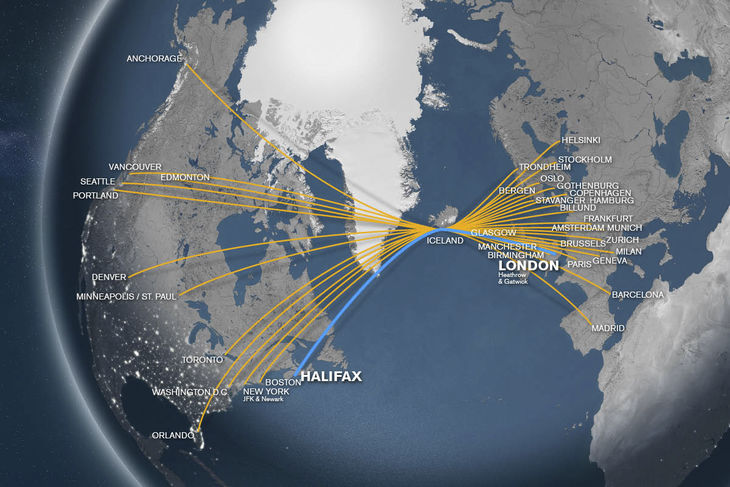 Book flights from London, England (LHR / LGW) to Halifax (YHZ). Icelandair offers low fares on flights to Halifax, Canada.  Plan your trip to Halifax, book your flights, buy your airline tickets, and fly from London to Halifax! Enjoy your holidays in Halifax when you fly Icelandair. Trusted for over 75 years, with Icelandair you can enjoy your trip to Nova Scotia and: our great on-time performance, a one-checked bag (except for Economy Light fares), a reduced flying time because of our short northerly routes, and who knows, you may even learn to speak like a Viking.
Cheap flights to Halifax
Use Icelandair to fly from London to Halifax. On your trip to Nova Scotia, stop in Iceland to quickly change planes or stay a while and make the most of your vacation. Enjoy Iceland's 24 hours of daylight in the summer, the gorgeous display of northern lights in winter, or our lively year-round nightlife in charming Reykjavik. Say goodbye to Buckingham Palace, the Tate Modern Museum, High Street, and Big Ben, and book tickets to fly to Halifax.
Have lobster for breakfast, sail in the harbour on a tall ship, or sit with a warm cup of tea and look out at the unforgettable coastline of gorgeous Nova Scotia.  A city steeped in history, you can spend the day learning about Canada's past at the Citadel or brushing shoulders with the youthful students from one of the six local universities. This hilly coastal town offers wineries, fine dining, and museums as well as plenty for outdoor enthusiasts, from hiking to rafting and kayaking. Use Halifax as your base to explore the breath-taking Nova Scotia region, a wild landscape where whales swim along the shore and moose amble beside the road. Check Icelandair's cheap tickets from London, England (LHR) to Halifax, Canada (YHZ) and plan your holidays now! 
Enjoy a stopover in Iceland!
Flying from London to Halifax? Take advantage of an Iceland stopover for up to seven nights at no additional airfare. Even if you just visit for 24 hours you can do things like soak in the Blue Lagoon, wander along black sand beaches or ride a horse across a lava field. But of course we recommend you stay even longer!
Fly to halifax: LHR to YHZ airport info:
Make fast, easy connections with Icelandair.  Our flight network is set up to easily change planes and connect to your onward flight. Flights from London to Halifax are scheduled such that stopovers in Iceland are typically between 30 and 60 minutes.
Travellers from London, England to Nova Scotia who wish to explore Iceland may be able to extend their stopover to have time to soak in the hot waters of the beautiful Blue Lagoon or discover the cosy capital of Reykjavik.
The distance from LHR, London Heathrow Airport in London, England to Halifax Stanfield International Airport (YHZ) is approximately 4,590 kilometres or 2,851 miles.
What's in a name? The full name of the airport is: Robert L. Stanfield International Airport but you can also call it Halifax Stanfield International Airport or just Halifax International Airport. Some people just say they are flying to Nova Scotia. Got it?
YHZ is located approximately 30.5 kilometres or 19 miles from downtown Halifax.
You can easily get from downtown Halifax to YHZ by car, bus, limo, or taxi (from 22 minutes).
What's stuðlaberg? On routes from the UK to Canada, we want you to feel like you've learned a little bit about Iceland, so we've added glimpses of info about our country all around the plane, even naming each food item after natural wonders of the country.
Did you know there's a strong Scottish influence in Halifax? That's why you'll see lots of tartan around town. Feel free to bring your kilt with you, you'll fit right in.
*Shorten your flying time! Because of Icelandair's northerly routes, the duration of flights from London to Nova Scotia are often significantly less than other airlines.
*Transatlantic flights from LHR to YHZ typically use two types of aircraft: Boeing 757-200 or Boeing 757-300
Look up! In winter, you can spot the northern lights over the skies in Nova Scotia.
On flights from London to Halifax you can: learn a few Icelandic phrases, taste an Icelandic donut, and even try some of our delicious glacial water.
A complimentary warm meal for children is served on all Icelandair flights from the UK to Nova Scotia. And the packaging transforms into a cool, creative kid's toy.
We want you to relax on your holidays in Nova Scotia. Blankets & pillows are in every seat on European routes to North America—they even come with an Icelandic lullaby.
The personal inflight entertainment system is available on nearly every flight from London to Halifax and it offers a full selection of programming for you and for children too. Go ahead, let your kids watch dozens of episodes of Lazy Town.
Use Icelandair to fly from London, England to Halifax, Canada for your next vacation and you will have the distinct pleasure of flying the only airline in the world that names its planes after volcanoes. Now try to pronounce this one: Snæfell.
Nova Scotia is home to dozens of wineries. Go ahead and do some wine tasting.
The Halifax International Airport is named in honour of Robert Stanfield the Premier of Nova Scotia from 1956 to 1967.
Share flights from London to Halifax