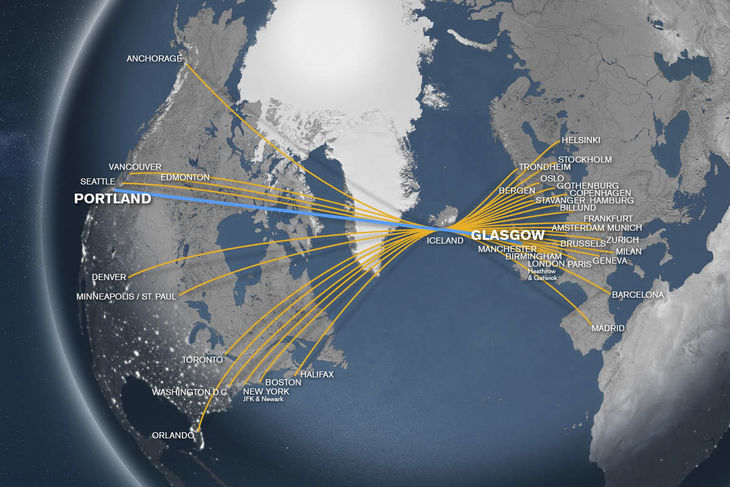 Book flights from Glasgow (GLA), Scotland to Portland (PDX), in the US. Icelandair offers low fares on flights to Portland, Oregon.  Plan your holidays in the States, book your flights, buy your airline tickets, and fly to free spirited Portland! When you fly Icelandair, trusted for over 75 years, you can enjoy: our great on-time performance, our extensive and fun entertainment system, and who knows, you may even learn to speak like a Viking.
CHEAP FLIGHTS TO THE US
Use Icelandair to fly from Glasgow, Scotland to the US. On your way, stop briefly in Iceland to change planes or linger a bit longer and sample the wonders of Iceland. Enjoy some of the purest water in the world and if you love snorkeling or diving you can experience the water in another way and dive between two continents. If culture is more your thing we've museums by the bucket load and a host of galleries, boutiques and Icelandic design stores. So, wave goodbye to Buchanan Street and book tickets to fly to Portland in gloriously, green Oregon.
Portland is fabulous for winter sports. Just 90 minutes' drive from the city takes you to Mount Hood, boasting 11 lifts and 85 runs for every level of skier. And for fans of skiing under starry skies there's the Ski Bowl, the largest night ski area in the country. If you've little people with curious minds, you'll find the 1.3 acre Outdoor Adventure at the Children's Museum a slice of heaven. Experience the Zany Maze, water and sand features. Perfect for children who love to learn through play.
Check Icelandair's cheap tickets from Glasgow, (GLA) Scotland to Portland, (PDX) Oregon and start planning your holidays now! 
FLY TO THE US: GLA TO PDX AIRPORT INFO:
Make fast, easy connections with Icelandair. Our flight network is set up to easily change planes and connect to your onward flight. Flights from Europe to North America are scheduled so that stopovers in Iceland are typically between 30 and 60 minutes.
Travelers from Glasgow (GLA), Scotland to Portland (PDX), Oregon who want to explore Iceland can extend their stopover at no extra cost. Why not relax in Europe's most northern capital for a few days?
The distance from Glasgow Airport (GLA) to Portland International Airport (PDX) is approximately 7,338 km or 4,560 miles.
The airport in Portland is approximately 15km north east of downtown Portland.
Portland Airport has free Wi-Fi meaning you can always stay connected.
Did you know that there's a cycle and pedestrian path that connects Portland International Airport to regional trains?
To reach downtown Portland it's an easy 20-30 minutes by taxi or 40 minutes' journey by light rail.
What's stuðlaberg? On routes from the UK we want you to feel like you've learned a little about Icelandic culture, so we've added bits and pieces of info about our country all around the plane, even naming each food item after natural wonders of the country.
Shorten your flying time! Because of Icelandair's northerly routes, the duration of flights from Glasgow to Portland is often significantly less than other airlines.
Icelandair flies a seasonal flight from Glasgow, Scotland to Portland, Oregon from May through until October, 2015.
On flights from Glasgow to the US you can: learn a few Icelandic phrases, taste an Icelandic donut, and even try some of our refreshing, glacial water.
A complimentary warm meal for children is served on all Icelandair flights from the UK to the US. And the packaging transforms into a cool, creative kid's toy.
We want you to relax on your holidays in the US. Blankets & pillows are in every seat on European routes to North America—they even come with an Icelandic lullaby written on them.
For a little piece of luxury, fly Saga Class and stretch out in 40 inches of legroom, enjoy noise cancelling ear phones and be spoilt for choice with our luxury food and drinks menu.
The personal inflight entertainment system is available on nearly every flight from Glasgow to Portland and it offers a full range of entertainment for you and your family. With over 150 hours of entertainment there's lots to choose from.
Our entertainment system holds a vast selection of music to suit your every mood, interactive games for the kids and a choice of films to entertain and inspire.
Use Icelandair to fly from Glasgow, Scotland to Portland, Oregon for your next vacation and you will have the unique pleasure of flying the only airline in the world that names its planes after volcanoes. Now try to pronounce this one: Snæfell. Like a little help? Try it like this: Snigh-fetl. Well done!
You can get directly from downtown Portland to Portland International Airport (PDX) via MAX light rail train.
Portland is a book lovers' nirvana. Explore "Powells" a book store so large they offer a map and app to help you navigate 68,000 square feet, nine color coded rooms and three floors of books, books, books.
Whale watching? In Oregon? You betcha! There are two seasons a year when over 18,000 whales migrate along the Oregon coastline. That's a lot of whales to see.
Be sure to visit the Lloyd Center, Oregon's largest Mall. With almost 200 stores, an indoor ice rink and a cinema with 8 screens there's something for all the family.
Share flights from Glasgow to Portland