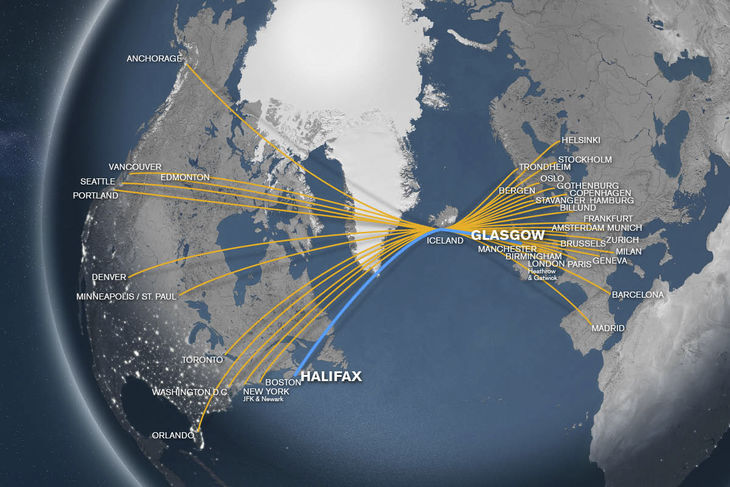 Book flights from Glasgow (GLA), Scotland to Halifax (YHZ), Canada. Icelandair offers low fares on flights to Halifax, Canada.  Plan your trip to Halifax, book your flights, buy your airline tickets, and fly from Glasgow to Halifax! Enjoy your holidays in Canada when you fly Icelandair. Trusted for over 75 years, with Icelandair you can enjoy your trip to Halifax and: our great on-time performance, our entertainment system full of fun, entertaining and stimulating programmes for you enjoy, and who knows, you may even learn to speak like a Viking.
CHEAP FLIGHTS TO CANADA
Use Icelandair to fly from Glasgow to Canada. When in Iceland you can stop to just change planes or stay a day or so and enjoy a few treats in the Land of Fire and Ice. Indulge in some first class cuisine, taste some of the healthiest lamb on the planet, fish for salmon in one of our many rivers or savour our fresh blueberries. So, wave goodbye to the Tron and wining and dining in the West End and book tickets to fly to Canada.
If you're looking for place to recharge, Halifax, the "Little big city in Canada" has a treasure trove of nature for you to enjoy. Choose from biking on the many coastal paths, getting on the water with a kayak or going on a wagon ride.  Are you a lover of fine things? You'll want to visit the Nova Scotia Crystal Factory to find how they hand blow each piece whether it's one of their goblets, bowls or vases. Or perhaps you fancy playing soldier for a day - being fully kitted out and taken through a foot drill? And for younger soldiers, learn how to play a field drum? Look no further than the Halifax Citadel National Historic Site of Canada. Check out Icelandair's cheap tickets from Glasgow (GLA) to Halifax (YHZ) and plan your holidays now! 
ENJOY A STOPOVER IN ICELAND!
Fly to Canada from Europe! Flying from Glasgow to Halifax? Why not stopover in Iceland? You could simply change planes and be in and out of the airport in under an hour or take a few extra hours and unwind in the milky, warm waters at the Blue Lagoon. Or, stay up to 7 nights at no extra charge and have time to take in some cool Icelandic bands in concert, stroll round the many concept and design stores or go horse riding on our black, volcanic beaches or ancient lava fields. When you fly with Icelandair we take the quickest, shortest northerly route, saving you time.
FLY TO CANADA: GLA TO YHZ AIRPORT INFO:
Make fast, easy connections with Icelandair. Our flight network is set up to easily change planes and connect to your onward flight. Flights from Glasgow to destinations in North America are scheduled such that stopovers in Iceland are typically between 30 and 60 minutes.
Travellers from Glasgow (GLA), Scotland to Halifax (YHZ), Canada who wish to explore Iceland may be able to extend their stopover to have time to relax, revitalise and recharge in the breathtakingly beautiful Blue Lagoon or explore the colourful streets of the world's most northerly capital, Reykjavik.
The distance from Glasgow Airport (GLA) to Halifax International Airport (YHZ) is approximately 3,294 kilometres or 2,047 miles.
The full name of the airport is: Halifax Robert L. Stanfield International Airport. But it's often called Halifax International Airport. The airport is named after the 17th Premier of Nova Scotia, Robert Stanfield. Halifax International Airport is one of a few places along the east coast where NASA's space shuttle can land if there are complications with lift-off.
YHZ is located approximately 35 kilometres or 22 miles from downtown Halifax.
Halifax International Airport (YHZ) has 1 terminal, with three levels and 31 gates. It has over 120 tartan dressed volunteers trained in the airport's cultural course "The Stanfield Way" waiting to greet you and provide friendly service.
Halifax International Airport is proud to be an international leader in customer service, winning first place in the global Airport Service Quality programme for a number of years.
Shorten your flying time! Because of Icelandair's northerly routes, the duration of flights from Glasgow to Halifax is often significantly less than other airlines.
What's stuðlaberg? On routes from Europe to Canada we want you to feel like you've learned a little bit about Iceland, so we've added glimpses of info about our country all around the plane, even naming each food item after natural wonders of the country.
On flights from Glasgow to Canada you can: learn a few Icelandic phrases, watch some top Icelandic films, and even try some of our refreshing glacial water.
A complimentary warm meal for children is served on all Icelandair flights from the UK to Canada. And the packaging transforms into a cool, creative kid's toy.
Blankets & pillows are in every seat on European routes to North America—they even come with an Icelandic lullaby.
For a little something special, try Saga Class. Your trip starts with a free visit to our Saga Lounge where you can enjoy a selection of snacks and a glass or two of something refreshing. On board, business class seats are super spacious and comfy and there's even extra leg room for you.
The personal inflight entertainment system is available on nearly every flight from Glasgow to Halifax and it offers a full selection of programming for you and for children too. Go ahead, let your kids be inspired by the colourful antics of dozens of episodes of Lazy Town.
Want some music? We've the pleasure of introducing you to a wide selection of some of the latest from a range of playlists to suit whatever your musical moods. Sit back, enjoy and soak up the sounds!
Use Icelandair to fly from Glasgow, Scotland to Halifax, Canada for your next vacation and you will have the distinct pleasure of flying the only airline in the world that names its planes after volcanoes. Now try to pronounce this one: Snæfell. Confused? Try this: Snigh-fetl. Know what it means? Snow field. So you can now tell your friends you speak Icelandic.
You can easily get from downtown Halifax International Airport (YHZ) by car, bus, or taxi (30-45 minutes).
Love the ocean? You'll want to check out the Maritime Museum. Indulge in the history and romance of the sail boat, explore treasures from shipwrecks and you'll want to linger in the Titantic Exhibition and learn what life was like on board.
Travel back in time to the 1940s and see how Canadians lived. Find out the social customs and all about ice houses, gold mining and clam factories.
Like your museums with an element of entertainment and theatre? Visit Alexander Keith's Nova Scotia Brewery, one of the oldest breweries in Canada. This museum brings history to life through story, song and a free sample of the brew itself.
Share flights from Glasgow to Halifax