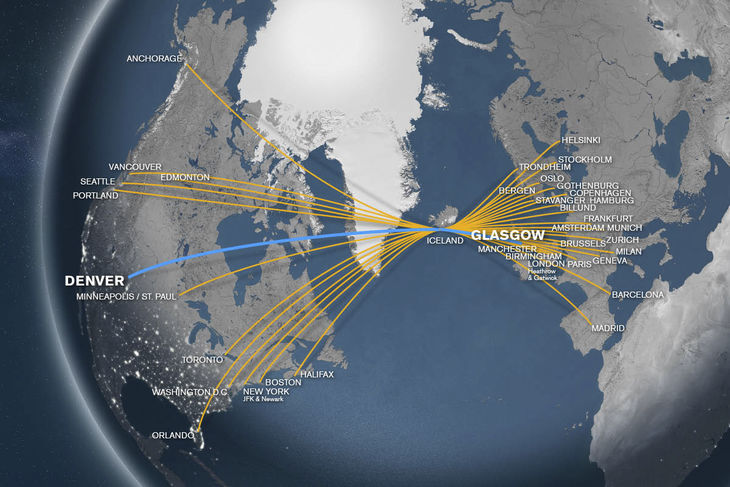 Book flights from Glasgow (GLA), UK to Denver (DEN), Colorado, USA. Icelandair offers you low prices on North American flights for those traveling from Europe on holiday and business.  Plan your trip from Europe to the States, book your flights, and fly from Glasgow to Denver in captivating Colorado. When you fly with us at Icelandair, trusted for over 75 years, you can look forward to: our reliable on-time performance, a one-checked bag (except for Economy Light fares) and complimentary seat selection. And who knows, you could pick up some phrases in Icelandic and impress your friends. Now, wouldn't that be something?
CHEAP FLIGHTS TO USA
Use Icelandair to fly from Glasgow to Denver. On your travels, change planes in Iceland or why not stopover for a short trip in Reykjavik and experience the many Nordic delights Iceland has to offer? Explore quaint and colorful Reykjavik, climb a glacier or marvel at the wonderful northern lights. So wave "cheerio" to Glasgow and book tickets to fly to Denver and the stunning nature of Colorado.
A visit to Colorado isn't complete without exploring what National Geographic hailed as "one of the best trips in the world." The Rocky Mountain National Park has 60 mountains over 12.00 ft., 359 miles of trails and 150 lakes. That's a lot of wilderness to enjoy. After all that fresh air, Fruit Beer, anyone? Herb and Spice Beer? Chocolate Beer? Or maybe a Coffee Beer? How about a regular American beer? Denver brews more beer than any other city in the country, so you'll be spoilt for choice.
Check Icelandair's low cost European airfares from Glasgow (GLA) to Denver (DEN) and plan your vacation now! 
ENJOY A STOPOVER IN ICELAND! WHY NOT BREAK YOUR TRAVELS WITH A SHORT TRIP IN ICELAND?
Fly to North America from Europe! Flying from Glasgow to Denver, why not stopover in Iceland? You could simply change planes and be in and out of the airport in under an hour or take a few extra hours and pamper yourself in the soft waters of the Blue Lagoon. Or, stay up to 7 days at no extra charge and have time to see the northern lights, climb a volcano, or stroll along the streets and boutiques in charming Reykjavik. When you fly with Icelandair we take the quickest, shortest northerly route, saving you time.
FLY TO USA: GLA to DEN AIRPORT INFO:
Make fast, easy connections with Icelandair. Our flight network is set up to easily change planes and connect to your onward flight. Flights from Glasgow to Denver are scheduled such that stopovers in Iceland are typically between 30 and 60 minutes.
Travelers from Glasgow (GLA), UK to Denver (DEN), Colorado, USA, who wish to explore Iceland may be able to extend their trip and enjoy a stopover. Hike through outstanding Icelandic nature, ski down a glacier or horseback ride on a volcanic beach.
The distance from Glasgow Airport (GLA) to Denver International Airport (DEN) is approximately 4,350 miles/7,001 km.
In Denver, the airport is usually called Denver International or DIA. It's iconically designed roof captures Colorado's snow-capped mountains and echoes the state's heritage when Native American teepees were a common sight across the Great Plains.
The terminal in Denver Airport (DEN) is called the Jeppesen Terminal, named in honor of Elrey Jeppesen, the aviation safety pioneer. Throughout the airport art lovers are in for a treat. Voted "Best U.S. Airport for Art" by USA Today in 2013, look forward to enjoying exhibitions, new commissions and permanent collections.
Denver Airport (DEN) is only 30 minutes travel from downtown Denver by public transport.
Who is Ingólfur Arnarson and what's he got to do with napkins? On routes from Europe to North America, we want you to feel like you've got to find out a little bit about Iceland. So, we've added some info about our country all around the plane, even naming each food item after natural, Icelandic wonders.
On flights from Glasgow to Denver you can: pick up a few Icelandic phrases, treat yourself to an Icelandic donut, and even drink our world famous, glacial water.
A complimentary warm meal for children is served on all Icelandair flights from Europe to the USA. And the packaging transforms into a cool, creative kid's toy.
Relax on your travels to Denver. Complimentary blankets & pillows are available on every flight - they even come with an Icelandic lullaby.
Why not travel in real style and luxury and enjoy some wining and dining? Icelandair's Saga Class experience starts with a complimentary visit to our classy Saga lounge for tasty treats and delicious drinks before a fine, gourmet experience on board.
The personal inflight entertainment system is available on nearly every flight from Europe to the US and it offers a full selection of films, series and music for you and your family. With over 150 hours of programs there's something for everybody's viewing tastes.
Music lover? We've lots of tracks for you to choose from. With 40 albums and 7 unique playlists, sit back, unwind and let the sounds soothe you.
Use Icelandair to fly from Glasgow to Denver for your next vacation and you will have the distinct pleasure of flying the only airline in the world that names its planes after volcanoes. Now, try to pronounce this one: Eyjafjallajökull. Tricky? Try again. "AY-uh-fyat-luh-YOE-kuutl-uh" That's easier, isn't it? And now you can say you speak Icelandic.
From Denver City center, you can get to Denver International Airport (DEN) by taking SkyRide, Denver's Regional Transportation District's airport bus line that collects from many bus stops and Park-n-Rides 365 days of the year.
Home to a host of cultural artefacts, Denver Art Museum is designed to echo the shapes of the Rocky Mountains, meaning there's bags of visual appeal both inside and out.
Looking for some fresh air? Denver's Washington Park has 165 acres of gardens, paths, two lakes you can rent boats on, ten tennis courts and a recreation center with its own pool.
Little ones who love to play? Check out the Children's Museum of Denver where they can "play shop" at the community market and pretend to be shopper, shopkeeper and cashier.
Share flights from Glasgow to Denver