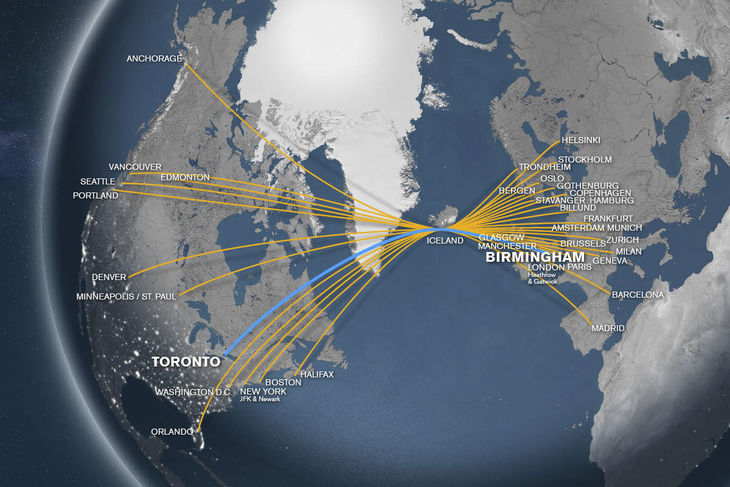 Book flights from Birmingham (BHX), U.K. to Toronto (YYZ), Ontario, Canada. Icelandair offers fabulous, low fares on North American flights for those traveling from Europe on holiday or business. Plan your journey from U.K. to North America, book those flights, and fly from Birmingham to "The Big Smoke," "Hogtown" or as it's more commonly known, Toronto. When you fly Icelandair, trusted for over 75 years, you can look forward to enjoy: our reliable on-time performance, a reduced flying time because of our short northerly routes over the Atlantic, and you never know, perhaps you'll even learn a few Icelandic phrases and sound like a Viking. Now, wouldn't that impress folk?
CHEAP FLIGHTS TO CANADA
Use Icelandair to fly from Birmingham to Toronto. On your way, stop briefly in Iceland to change planes or stay a few days and enjoy the wonders and delights of Iceland. Explore Reykjavík's quaint streets, coffee culture and design stores. For outdoor enthusiasts, why not hike on a glacier and a volcano in the same day? So wave "bye-bye" to Birmingham and say "howdy" to Toronto with its multicultural buzz and book tickets to fly to Canada.
For views to take your breath away, experience the hands free walk right at the edge of the CN Tower. Prefer your view behind glass? Sip a refreshment and drink in the panorama from the comfort of the Roof Lounge in the Park Hyatt. And whilst in Toronto, check out Chinatown. Select from 3 Chinatowns where you can fill up on Asian food, fashions, and also fireworks during Chinese New Year.
Check Icelandair's cheap European airfares from Birmingham (BHX), U.K. to Toronto (YYZ), in Canada and plan your vacation now! 
ENJOY A STOPOVER IN ICELAND!
Fly to Canada from Europe! Flying from Birmingham to Toronto, why not stopover in Iceland? You could simply change planes and be in and out of the airport in under an hour or take a few extra hours and recharge with a luxurious experience in the calming waters of the Blue Lagoon. Or, stay up to 7 nights at no extra cost and have time to go whale watching, walk between two continents, or experience the magic that is the northern lights. When you fly with Icelandair we take the quickest, shortest northerly route, saving you time.
FLY TO CANADA: BHX to YYZ AIRPORT INFO:
Make fast, easy connections with Icelandair. Our flight network is set up to easily change planes and connect to your onward flight. Flights from Europe to North America are scheduled such that stopovers in Iceland are typically between 30 and 60 minutes.
Travelers from Birmingham (BHX) to Toronto (YYZ), Canada who wish to explore Iceland may be able to extend their stopover to have time to relax and revive in the waters of the beautiful Blue Lagoon or take in an art gallery or museum or two in Reykjavik.
The distance from Birmingham Airport (BHX) to Toronto International Airport (YYZ) is approximately 3,467 miles/5,580 km.
In Toronto, the airport is usually called Toronto Pearson International Airport. It's also knows as Lester B. Pearson International Airport and also as Pearson Airport or Toronto Pearson. Who is Lester B. Pearson? He was the 14th Prime Minister of Canada and Nobel Peace Prize Winner.
Toronto International Airport (YYZ) has 2 terminals, terminal 1 and terminal 3. Terminal 2 was in operation until 2007 and demolished in 2008.
Toronto International Airport (YYZ) is close to downtown Toronto, being less than 23km northwest from the city centre.
Who's Leifur Eríksson? On routes from Europe to North America, we want you to feel like you've learned a little bit about Iceland, so we've added glimpses of info about our country all around the plane, even naming each food item after natural Icelandic wonders.
Shorten your flying time! Because of Icelandair's northerly routes, the duration of flights from Birmingham to Toronto is often significantly less than other airlines.
On flights from Birmingham to Toronto you can: learn a few Icelandic phrases, savor a delicious Icelandic donut, and even sip some of our refreshing glacial water.
A complimentary warm meal for children is served on all Icelandair flights from Europe to North America. And the packaging transforms into a cool, creative kid's toy.
Relax on your flight to Toronto. Blankets & pillows are in every seat on European routes to North America—they even come with an Icelandic lullaby.
For a little piece of luxury, fly Saga Class. Dine in style and choose from our gourmet menu and fine wine selection. Looking for privacy and some "me" time? We've noise cancelling headphones that do the trick.
The personal inflight entertainment system is available on nearly every flight from Europe to North America and offers a full selection of programming for you and for the kids, too. Go ahead, let your young ones enjoy a range of animated and colorful programs, like Shaun the Sheep and Angelina Ballerina.
Love film? You're flying with the right airline. We do too, and that's why we've films to thrill you, make you laugh, and yes, those that might have you reaching for a tissue.
Use Icelandair to fly from Birmingham, U.K. to Toronto, Canada for your next vacation and you will have the distinct pleasure of flying the only airline in the world that names its planes after volcanoes. Now, try to pronounce this one: Eyjafjallajökull. Tongue tied? Let us offer a little help. Try again: "AY-uh-fyat-luh-YOE-kuutl-uh." There. You're almost Icelandic.
From Toronto city center, you can get to Toronto International Airport (YYZ) by public transit on the Toronto Transit Commission or GO Transit or you can take the Toronto Airport Express Coach from a range of downtown locations.
Get on your bike! We mean this in a nice way, of course. Toronto loves the bicycle. Hire a bike and cross the whole city, exploring the environmental way and getting a great workout.
For a scenic trip, check out the Toronto Islands. Ideal for bird watching and the more adventurous can get back to nature on the nudist beach.
Ready to trip the light fantastic? You'll have a ball at Toronto night spots, and enjoy a night with sparkle and glamor.
Share flights from Birmingham to Toronto