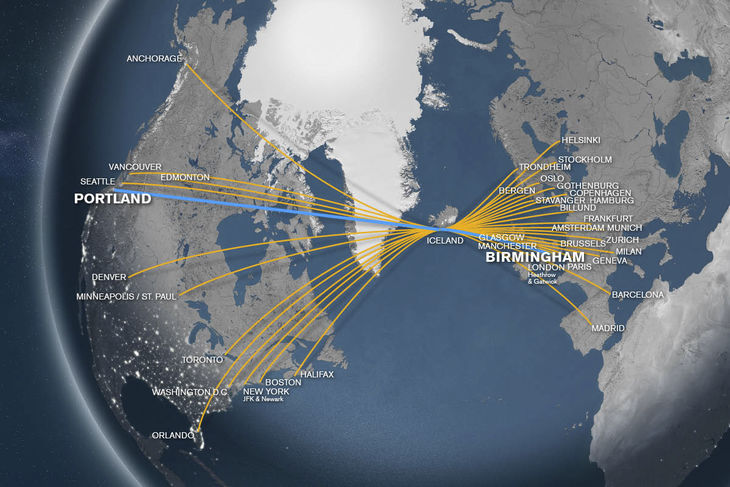 Book flights from Birmingham (BHX), England to Portland (PDX), in the US. Icelandair offers low fares on flights to Portland, Oregon. Plan your holidays in the States, book your flights, buy your airline tickets, and fly to free spirited Portland! When you fly Icelandair, trusted for over 75 years, you can enjoy: our great on-time performance, our extensive and fun entertainment system, and who knows, you may even learn to speak like a Viking.
CHEAP FLIGHTS TO THE US
Use Icelandair to fly from Birmingham, England to the US. On your way, stop briefly in Iceland to change planes or linger a bit longer and sample the wonders of Iceland. Why not connect with nature and explore the glaciers, volcanoes and fjords? For animal lovers, enjoy whale or puffin watching and the Icelandic horse will melt your heart. If relaxing is high on your list, take a soak in one of the many hot pots at Iceland's geothermally heated swimming pools and enjoy a chat with the locals. Wave farewell to Birmingham Bull ring market and book tickets to fly to Portland in gloriously, green Oregon.
Green fingers? You'll adore Lach Botanical Gardens. Set in a canyon, this paradise boats over 1,500 kinds of plants and flowers. To explore the past why not take in an exhibition at Pittock Mansion, home from 1914-1919 to two of Portland's most famous community and business entrepreneurs, Henry and Georgiana Pittock. For those who love fashion and interior design you'll adore the elegant Turkish, English and French designs throughout the mansion.
Check Icelandair's cheap tickets from Birmingham, (BHX) England to Portland, (PDX) Oregon and start planning your holidays now! 
FLY TO THE US: BHX TO PDX AIRPORT INFO:
Make fast, easy connections with Icelandair. Our flight network is set up to easily change planes and connect to your onward flight. Flights from Europe to North America are scheduled so that stopovers in Iceland are typically between 30 and 60 minutes.
Travelers from Birmingham (BHX), England to Portland (PDX), Oregon who want to explore Iceland can extend their stopover at no extra cost. Why not relax in Europe's most northern capital for a few days?
The distance from Birmingham Airport (BHX) to Portland International Airport (PDX) is approximately 7,741 km or 4,810 miles.
The airport in Portland is approximately 15km north east of downtown Portland.
Portland Airport has free Wi-Fi meaning you can always stay connected.
Did you know that there's a cycle and pedestrian path that connects Portland International Airport to regional trains?
To reach downtown Portland it's an easy 20-30 minutes by taxi or 40 minutes' journey by light rail.
What's stuðlaberg? On routes from the UK we want you to feel like you've learned a little about Icelandic culture, so we've added bits and pieces of info about our country all around the plane, even naming each food item after natural wonders of the country.
Shorten your flying time! Because of Icelandair's northerly routes, the duration of flights from Birmingham to Portland is often significantly less than other airlines.
Icelandair will start flying a seasonal flight from Birmingham, England to Portland, Oregon from May through until October, 2015.
On flights from Birmingham to the US you can: learn a few Icelandic phrases, taste an Icelandic donut, and even try some of our refreshing, glacial water.
A complimentary warm meal for children is served on all Icelandair flights from the UK to the US. And the packaging transforms into a cool, creative kid's toy.
We want you to relax on your holidays in the US. Blankets & pillows are in every seat on European routes to North America—they even come with an Icelandic lullaby written on them.
For a little piece of luxury, fly Saga Class. Sit back in our extra spacious, super comfy seats, choose from our gourmet food and drinks menu and you'll always be connected thanks to our USB chargers on every seat.
The personal inflight entertainment system is available on nearly every flight from Birmingham to Portland and it offers a full range of entertainment for you and your family. With over 150 hours of entertainment there's lots to choose from.
Love film? So do we! That's why we've carefully chosen a selection of amazing films. We've some of the latest action films, old classics, and even Icelandic films (and yes, we've been kind and given you subtitles).
Use Icelandair to fly from Birmingham, England to Portland, Oregon for your next vacation and you will have the unique pleasure of flying the only airline in the world that names its planes after volcanoes. Now try to pronounce this one: Snæfell. Like a little help? Try it like this: Snigh-fetl. Well done!
You can get directly from downtown Portland to Portland International Airport (PDX) via MAX light rail train.
Looking to make a purchase? A treat or stock up on essentials? You're in the right place. Portland has no sales tax. Yes, you read that correctly.
Oregon is breathtakingly beautiful! Meander in Canon Beach, an artsy village on Oregon's coastline and hike Ecola State Park's rugged, headlands and the cliffs overlooking Indian Beach.
Holidays are all about stopping and relaxing and with over 60 breweries in Portland, there's always a reason to pull up a chair and raise a glass. Cheers!
Share flights from Birmingham to Portland