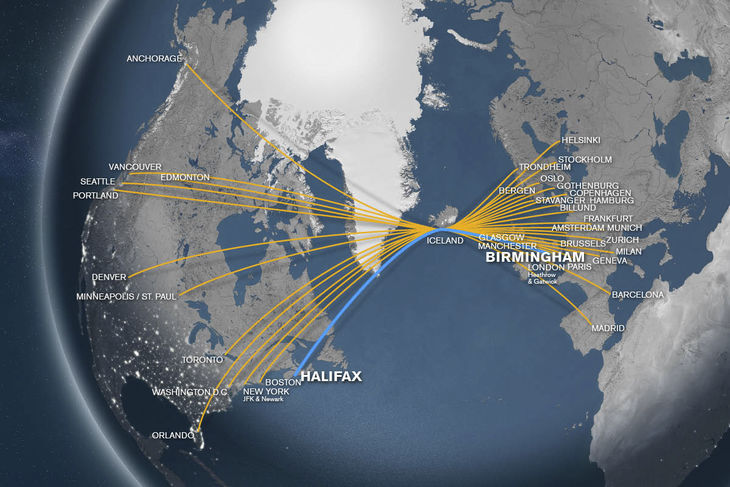 Book flights from Birmingham (BHX), UK to Halifax (YHZ), Nova Scotia, Canada. Icelandair offers you low prices on flights for those traveling from Europe on holiday and business. Plan your trip from Europe to Canada, book your flights, and fly from Birmingham to Halifax, Nova Scotia. When you fly with us at Icelandair, trusted for over 75 years, you can look forward to: our reliable on-time performance, a one-checked bag (except for Economy Light fares) and complimentary seat selection. And who knows, you could pick up some phrases in Icelandic and impress your friends. Now, wouldn't that be something?
CHEAP FLIGHTS TO CANADA
Use Icelandair to fly from Birmingham to Halifax. On your travels, change planes in Iceland or why not stopover for a short trip in Reykjavik and experience the many Nordic delights Iceland has to offer? Explore colorful and cozy Reykjavik, climb a glacier or marvel at the wonderful northern lights. So wave "bye" to Birmingham and book tickets to fly to Halifax, Nova Scotia, and explore Canada's great outdoors.
If you're looking for place to relax and chill out, Halifax, the "Little Big City in Canada" has a host of nature for you to explore. Choose from biking along coastal paths, kayaking on the water or riding on a wagon. For the little ones, check out a tour on Theodore Tugboat. Specially designed tours for children take in the characters of this famous book and TV series. Have fun on the river with Emily, Hank and the Harbor Master.
Check Icelandair's low cost European airfares from Birmingham (BHX) to Halifax (YHZ) and plan your vacation now! 
ENJOY A STOPOVER IN ICELAND! WHY NOT BREAK YOUR TRAVELS WITH A SHORT TRIP IN ICELAND?
Fly to Canada from Europe! Flying from Birmingham to Halifax, why not stopover in Iceland? You could simply change planes and be in and out of the airport in under an hour or take a few extra hours and relax and revive in the soft waters of the Blue Lagoon. Or, stay up to 7 days at no extra charge and see the northern lights, go puffin watching, or stroll along the streets and boutiques in quaint Reykjavik. When you fly with Icelandair we take the quickest, shortest northerly route, saving you time.
FLY TO CANADA: BHX to YHZ AIRPORT INFO:
Make fast, easy connections with Icelandair. Our flight network is set up to easily change planes and connect to your onward flight. Flights from Birmingham to Halifax are scheduled such that stopovers in Iceland are typically between 30 and 60 minutes.
Travelers from Birmingham (BHX), UK to Halifax (YHZ), Nova Scotia, Canada, who wish to explore Iceland may be able to extend their trip and enjoy a stopover. Hike amongst volcanoes, ski down a glacier or explore the cool, concept stores in downtown Reykjavik.
The distance from Birmingham Airport (BHX) to Halifax International Airport (YHZ) is approximately 2,776 miles/4,468 km.
The full name of the airport is: Halifax Robert L. Stanfield International Airport. But it's often called Halifax International Airport. The airport is named after the 17th Premier of Nova Scotia, Robert Stanfield. Halifax International Airport is one of a few places along the east coast where NASA's space shuttle can land if there are complications with lift-off.
Halifax International Airport (YHZ) is located approximately 35 kilometers or 22 miles from downtown Halifax.
Halifax International Airport (YHZ) has 1 terminal, with three levels and 31 gates. It has over 120 tartan dressed volunteers trained in the airport's cultural course "The Stanfield Way" - all waiting to greet you with their friendly service.
Halifax International Airport is proud to be an international leader in customer service, winning first place in the global Airport Service Quality program for a number of years.
Who is Ingólfur Arnarson and what's he got to do with napkins? On routes from Europe to Canada, we want you to feel like you've got to find out a little bit about Iceland. So, we've added some info about our country all around the plane, even naming each food item after natural, Icelandic wonders.
On flights from Birmingham to Halifax you can: pick up a few Icelandic phrases, treat yourself to an Icelandic donut, and even drink our world famous, glacial water.
A complimentary warm meal for children is served on all Icelandair flights from Europe to Canada. And the packaging transforms into a cool, creative kid's toy.
Relax on your travels to Halifax. Complimentary blankets & pillows are available on every flight - they even come with an Icelandic lullaby.
Treat yourself. Why not enjoy some luxury, wining and dining? Icelandair's Saga Class experience starts with a complimentary visit to our classy Saga lounge for tasty treats and delicious drinks before a fine, gourmet experience on board.
The personal inflight entertainment system is available on nearly every flight from Europe to Canada and it offers a full selection of films, series and music for you and your family. With over 150 hours of programs there's something for everybody's viewing tastes.
Music lover? We've a rich selection for you to choose from. With 40 albums and 7 unique playlists, sit back, unwind and let the sounds soothe you.
Use Icelandair to fly from Birmingham to Halifax for your next vacation and you will have the distinct pleasure of flying the only airline in the world that names its planes after volcanoes. Now, try to pronounce this one: Eyjafjallajökull. Tricky? Try again. "AY-uh-fyat-luh-YOE-kuutl-uh" That's easier, isn't it? And now you can say you speak Icelandic.
You can easily get from downtown Halifax International Airport (YHZ) by car, bus, or taxi (30-45 minutes).
Relax and chill out in Nova Scotia on a wine tour. Learn more about behind the scenes or pair wine with some gorgeous gourmet foods.
What was the life of early immigrants like in Halifax? Find out at the Canadian Museum of Immigration at Pier 21 and hear personal accounts.
McNabs Island is a great day trip from Halifax. Hike until your heart's content and explore the old forts and lighthouse.
Share flights from Birmingham to Halifax