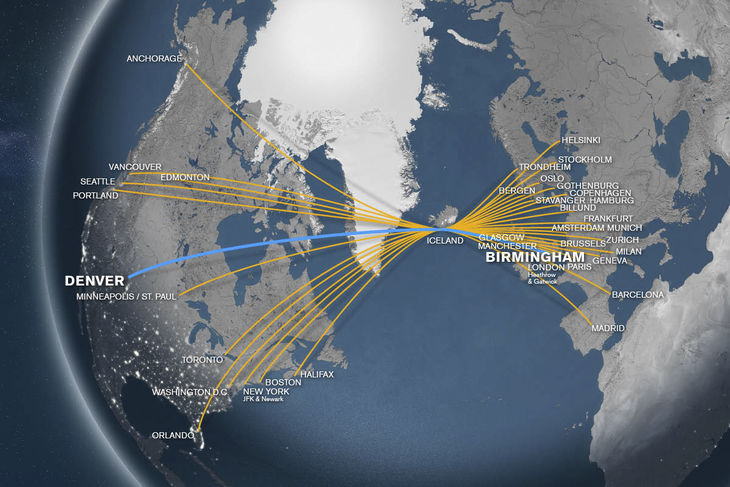 Book flights from Birmingham (BHX), UK to Denver (DEN), USA, known as "Queen City of the Plains." Icelandair offers you fabulous, low prices on North American flights for those traveling from Europe on holiday and business. Organize your trip from Europe to the States, book your flights, and fly from Birmingham to the home of the Rocky Mountains! When you fly with us at Icelandair, trusted for over 75 years, you can look forward to: our reliable on-time performance, a reduced flying time because of our short northerly routes over the Atlantic, and who knows, you may even pick up a few words and phrases in Icelandic and impress your friends with your brand new Viking skills. Wouldn't that be something else?
CHEAP FLIGHTS TO USA
Use Icelandair to fly from Birmingham to Denver in the South Platte River Valley. On your way, stop for a short while in Iceland to change planes or why not spend some time in cozy Reykjavik and get to know the many delights Iceland has to offer? Love water? Enjoy our heated, geothermal swimming pools, visit our many pretty waterfalls or sail on a glacial lagoon. So wave "au revoir" to Birmingham and book tickets to fly to the great mile high city of Denver.
Beer lovers will be in heaven! Twenty Colorado breweries were awarded 24 medals at the World Beer Cup in 2014, including 10 gold medals. For nature lovers, Washington Park has 165 acres of glorious green space, two lakes you can rent boats on, a basketball and rollerblade park, ten tennis courts and a swimming pool. Lots of options to choose from to enjoy the great Denver outdoors.
Check Icelandair's low cost European airfares from Birmingham (BHX) to Denver (DEN) and plan your vacation now! 
ENJOY A STOPOVER IN ICELAND!
Fly to the USA from Europe! Flying from Birmingham to Denver, why not stopover in Iceland? You could simply change planes and be in and out of the airport in under an hour or take a few extra hours and treat your mind, body and soul in the soft, warm waters of the Blue Lagoon. Or, stay up to 7 nights at no extra charge and have time to go snorkeling between two continents, eat the freshest of salmon from our glacial rivers and horseback ride on a volcanic beach. When you fly with Icelandair we take the quickest, shortest northerly route, saving you time.
FLY TO USA: BHX to DEN AIRPORT INFO:
Make fast, easy connections with Icelandair. Our flight network is set up to easily change planes and connect to your onward flight. Flights from Europe to North America are scheduled such that stopovers in Iceland are typically between 30 and 60 minutes.
Travelers from Birmingham (BHX), UK to Denver (DEN), USA who wish to explore Iceland can extend their stopover to have time to meet some of our charming residents - the puffin, Icelandic horse and whale - and find out the latest in the world of Icelandic fashion, craft and design.
The distance from Birmingham Airport (BHX) to Denver Airport (DEN) is approximately 4,572 miles/7,358 km.
In Denver, the airport is usually called Denver International or DIA. It's iconically designed roof captures Colorado's snow-capped mountains and echoes the state's heritage when Native American teepees were a common sight in the Great Plains.
The terminal in Denver Airport (DEN) is called the Jeppesen Terminal, named in honor of Elrey Jeppesen, the aviation safety pioneer. Throughout the airport art lovers are in for a treat. Voted "Best U.S. Airport for Art" by USA Today in 2013, look forward to enjoying exhibitions, new commissions and permanent collections.
Denver Airport (DEN) is only 30 minutes travel from downtown Denver by public transport.
Who is Ingólfur Arnarson and what's he got to do with napkins? On routes from Europe to North America, we want you to feel like you've got to know a little bit about Iceland, so we've added pieces of info about our country all around the plane, even naming each food item after natural, Icelandic wonders.
Shorten your flying time! Because of Icelandair's northerly routes, the duration of flights from Birmingham to Denver is often significantly less than other airlines.
On flights from Birmingham to Denver you can: pick up a few Icelandic phrases, treat yourself to an Icelandic donut, and even savor our world famous, glacial water.
A complimentary warm meal for children is served on all Icelandair flights from Europe to the USA. And the packaging transforms into a cool, creative kid's toy.
Blankets & pillows are in every seat on European routes to North America—they even come with an Icelandic lullaby.
Travel in real style with Icelandair's Saga Class and start your journey with a complimentary visit to our sumptuous Saga lounge for tasty treats and a chilled glass of sparkle before enjoying extra leg room, extra space and extra privacy on board.
The personal inflight entertainment system is available on nearly every flight from Europe to the US and it offers a full selection of programming for you and all your family. With over 150 hours of programs there's truly something to match everyone's viewing tastes.
Music lover? We've created a huge selection of tracks. With 40 albums and 7 unique playlists, sit back, unwind and let the music soothe you.
Use Icelandair to fly from Birmingham to Denver for your next vacation and you will have the distinct pleasure of flying the only airline in the world that names its planes after volcanoes. Now, try to pronounce this one: Eyjafjallajökull. Tricky? Try again. "AY-uh-fyat-luh-YOE-kuutl-uh" That's easier, isn't it? And now you're one step closer to speaking Icelandic.
From Denver City center, you can get to Denver International Airport (DEN) by taking SkyRide, Denver's Regional Transportation District's airport bus line that collects from many bus stops and Park-n-Rides 365 days of the year.
Suffragette, social reformer and Titanic survivor, Molly Brown is remembered in Denver's Molly Brown House Museum, capturing Victorian Life and offering tasty treats of traditional teas, and dinners. Yum.
Want the view of views in Colorado? Drive up Mount Evans Scenic Byway. Passing trees, lakes and forest you'll climb 9.000 feet and across 5 climate zones to the 14,264 ft. summit.
Little ones who love to play? At the Children's Museum of Denver they can "play shop" at the community market. There's also woodwork activities and a science laboratory; all safe for little ones who like to explore.
Share flights from Birmingham to Denver