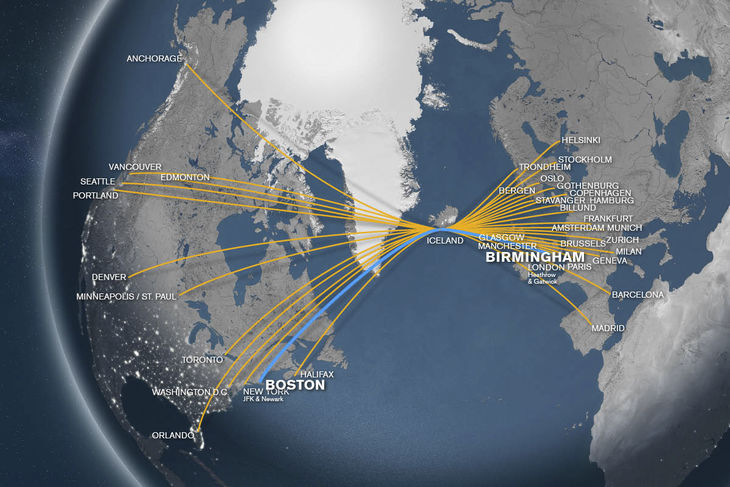 Book flights from Birmingham (BHX), England to Boston (BOS), USA. Icelandair offers low fares on North American flights for those traveling from Europe for a vacation.  Plan your trip from Europe to North America, book your flights, buy your airline tickets, and fly from Birmingham to Boston! When you fly Icelandair, trusted for over 75 years, you can enjoy: our great on-time performance, a reduced flying time because of our short northerly routes, and who knows, you may even learn to speak like a Viking.
CHEAP FLIGHTS TO USA
Use Icelandair to fly from Birmingham to Boston. On your way, stop briefly in Iceland to change planes or linger a bit longer and sample the wonders and delights of Iceland. Enjoy Reykjavík's colorful streets, quaint cafes and see the best in Icelandic design in our shops and boutiques. Or enjoy connecting with Icelandic nature and count how many waterfalls and Icelandic horses you can see in one day. So say "cheerio" to Millennium Point and Cadbury World and book tickets to fly to Boston.
To experience a wilder side of life wander down the spiraling ramp in the 200.000 gallon New England Aquarium. See the stunning Caribbean coral reef and the giant ocean tank, so big that the rest of the aquarium was built around it. For some relaxing family time, take a soothing swan boat ride on Boston's Public Garden lagoon. And no trip to Boston is complete without a visit, tour or baseball game at Fenway Park, home of the Red Sox. Check Icelandair's cheap European airfares from Birmingham (BHX), England to Boston (BOS), in the United States and plan your vacation now! 
ENJOY A STOPOVER IN ICELAND!
Fly to North America from Europe! Flying from Birmingham to Boston, why not stopover in Iceland? You could simply change planes and be in and out of the airport in under an hour or take a few extra hours and recharge with a soak in the calming, blue waters at the Blue Lagoon. Or, stay up to 7 nights at no extra charge and have time to climb on a glacier, go white water rafting, wander along our black, volcanic beaches, or take in the magic of the northern lights. When you fly with Icelandair we take the quickest, shortest northerly route, saving you time.
FLY TO USA: BHX to BOS AIRPORT INFO:
Make fast, easy connections with Icelandair. Our flight network is set up to easily change planes and connect to your onward flight. Flights from Europe to North America are scheduled such that stopovers in Iceland are typically between 30 and 60 minutes.
Travelers from Birmingham (BHX), England to Boston (BOS), USA who wish to explore Iceland may be able to extend their stopover to have time to soak in the gentle waters of the beautiful Blue Lagoon or explore Reykjavík, the most northerly capital in the world.
The distance from Birmingham Airport (BHX) to Boston International Airport (BOS) is approximately 3,182 miles/5,121 km.
In Boston, the airport is usually called Boston International Airport. It's also knows as Logan International Airport and its full name is General Edward Lawrence Logan International Airport.
Boston International Airport (BOS) has 4 terminals and 6 hubs and is the main transport point for the New England area.
Boston International Airport (BOS) is very close to Boston, being less than 7km north east of the Boston downtown area.
Who's Leifur Elríksson? On routes from Europe to North America, we want you to feel like you've learned a little bit about Iceland, so we've added glimpses of info about our country all around the plane, even naming each food item after natural wonders of the country.
Shorten your flying time! Because of Icelandair's northerly routes, the duration of flights from Birmingham to Boston is often significantly less than other airlines.
On flights from Birmingham to Boston you can: learn a few Icelandic phrases, try an Icelandic donut, and even taste some of our refreshing glacial water.
A complimentary warm meal for children is served on all Icelandair flights from Europe to North America. And the packaging transforms into a cool, creative kid's toy.
Blankets & pillows are in every seat on European routes to North America—they even come with an Icelandic lullaby.
For a little piece of luxury, fly Saga Class. Cuddle up in your own duvet, enjoy an interrupted night's sleep with our noise cancelling earphones and wake up and enjoy a choice of newspapers. Now that's a great way to start your holiday!
The personal inflight entertainment system is available on nearly every flight from Europe to North America and it offers a full selection of programming for you and for children too. Go ahead, let your kids experience a host of fun programs. Choose from a wide selection, for example, Shaun the Sheep, Lazy Town and The Gruffalo.
Want to be transported by some awesome Icelandic and international music? We've put together a really great selection for your every mood. Whether you're looking for soothing, sophisticated sounds or what's new on the scene we've something for everyone.
Use Icelandair to fly from Birmingham, England to Boston, in the United States for your next vacation and you will have the distinct pleasure of flying the only airline in the world that names its planes after volcanoes. Now, try to pronounce this one: Eyjafjallajökull. Trip over your tongue? Let us give you a little help. Try again: "AY-uh-fyat-luh-YOE-kuutl-uh." Easier, yes? Now you speak Icelandic.
From Boston city center, you can get to Boston International Airport (BOS) by taking the subway on the Blue Line from downtown Boston, the Silver Line bus service from Braintree, Birmingham, Peabody and Woburn or if you want to avoid traffic, take a water shuttle from downtown.
Want a trip to someplace famous where everybody knows your name? Pop into the bar shown on the opening credits of 90s sitcom "Cheers" and have a beer in this bar and museum that is devoted to all things "Cheers."
For some fresh air and some history, walk the Freedom Trail and visit the home of Paul Revere to find out how people in Boston lived in the 1770s.
Want to soak up some New England nature? Boston's Emerald Necklace glistens like a gemstone. Stroll around these interconnecting parks or rent a rowboat on this series of fresh water ponds.
Share flights from Birmingham to Boston