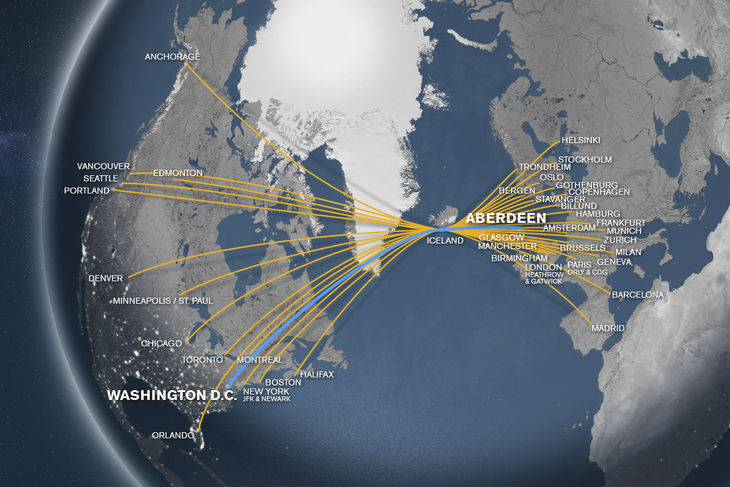 Are you after low cost flights from Aberdeen (ABZ), Scotland to Washington D.C. (IAD), USA? Icelandair has great fares on North American flights for those traveling to North America on holiday or business. Plan your journey from Scotland to North America, buy your tickets and fly from the Granite City to Washington. Icelandair is a trusted airline with over 75 years of experience, so you know you can look forward to enjoying: our reliable on-time performance, our top entertainment system and complimentary seat selection. And, who knows, maybe you could pick up the odd Icelandic phrase on your trip.
Cheap flights to USA
Use Icelandair to fly from Aberdeen to Washington D.C. On your way, stop for a little while in Iceland to change planes or treat yourself to a few days holiday on this Nordic isle. Enjoy a cozy, city break in Europe's most northerly capital, listen to the latest Icelandic bands, lap up our our cool, coffee culture and dine on lobster soup. For those with adventure in their soul, what about some whitewater rafting or caving under an ancient lava field? So wave "cheerio" to Aberdeen and get your tickets to Washington D.C.
Be sure to check out the Smithsonian Institution Building to let you know what's happening in the 19 free museums, galleries and national zoological park that make up the Smithsonian. Looking for a family day out? The 800 acre Great Falls Park is great for a picnic spot. With five overlook venues you'll be sure to catch great views of its waterfalls and the park is perfect for hiking, kayaking and horseback riding. 
Check Icelandair's low cost European airfares from Aberdeen (ABZ) to Washington D.C.  (IAD) and plan your trip now!
Enjoy a Stopover in Iceland!
Fly to the USA from Europe! Flying from Aberdeen to Washington D.C., why not stopover in Iceland? You could simply change planes and be in and out of the airport in under an hour or take a few extra hours and soothe yourself in the welcoming waters of the Blue Lagoon. Or, stay up to 7 nights at no extra charge and horseback ride on a black, volcanic beach and marvel at the magnificent Northern Lights.
Fly to USA: ABZ to IAD airport info:
Make fast, easy connections with Icelandair.  Our flight network is set up to easily change planes and connect to your onward flight. Flights from Europe to North America are scheduled so stopovers in Iceland are roughly between 30 and 60 minutes.
Travelers from Aberdeen (ABZ), Scotland to Washington D.C.  (IAD), USA who wish to enjoy Iceland can extend their stopover to experience the magic of our many waterfalls, hike across our ancient volcanoes or simply soak in a natural, hot spring.
The distance from Aberdeen Airport (ABZ) to Washington D.C.  Airport (IAD) is approximately 3,489 miles/5,615 km.
Washington Dulles International Airport is only 26 miles west of downtown Washington. The airport is called after John Dulles, the 52nd Secretary of State who served with President Dwight D. Eisenhower.
The terminal at Washington Dulles International Airport is made up of one main terminal and two midfield terminal buildings: Concourses A/B and C/D. The airport has four runways.
To get from Washington Dulles Airport to downtown Washington D.C. you can travel by SuperShuttle, a service offering shared rides in the metropolitan area or journey by express bus or Metrorail.
Who is Ingólfur Arnarson and what's he got to do with napkins? On routes from Europe to North America, we want to share some fun facts about Iceland, so we've added info about our country all around the plane, even naming each food item after natural, Icelandic wonders.
On flights from Aberdeen to Washington D.C. you can: watch an Icelandic movie, enjoy a delicious, Icelandic donut and drink our refreshing, glacial water.
A complimentary warm meal for children is provided on all Icelandair flights from Europe to the USA. And afterwards the packaging changes into a kid's toy. Cool.
Relax on your trip to Washington. Blankets & pillows are in every seat on European routes to North America - they even come with a sweet, Icelandic lullaby.
For a magical trip fly Saga Class. Your journey begins with a complimentary visit to our cozy Saga lounge for a buffet and refreshments before gourmet dining on board.
The personal inflight entertainment system is available on nearly every flight from Europe to the US and has entertainment for the whole family. We've over 150 hours of programs, so everyone has something to keep them entertained.
Music lover? You're flying with the right airline. Choose from our 40 albums and 7 unique playlists. Enjoy!
Use Icelandair to fly from Aberdeen to Washington D.C. for your next holiday and you will have the distinct pleasure of flying the only airline in the world that names its planes after volcanoes. Now, try to pronounce this one: Eyjafjallajökull. Tricky? Try again. "AY-uh-fyat-luh-YOE-kuutl-uh" A little easier? There. You now speak Icelandic.
From downtown Washington D.C. you can travel by Metrobus or the Silver Line to get you to Washington Dulles International Airport (IAD).
Take the kids to Glen Echo Park in Bethesda, Maryland, and have fun enjoying the puppet shows and the colorful Dentzel carousel.
Pretty as a button Alexandria is ideal for a day out, with its marina, boutiques and charming stores. Enjoy a horse drawn carriage tour or take a river cruise around this colonial town.
Memorials? D.C. has more than a few! To explore them in a different light and for a refreshing sightseeing tour why not take a sunset bike tour and take in the Lincoln Memorial, Jefferson Memorial, Franklin D Roosevelt Memorial and the Dr. Martin Luther King Jr. Memorial.
Share flights from Aberdeen to Washington D.C.