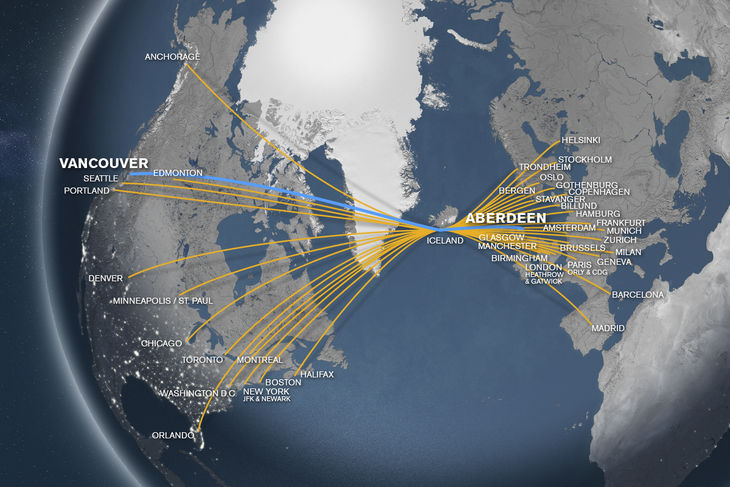 Looking to book tickets from Aberdeen (ABZ), Scotland to Vancouver (YVR), British Colombia, Canada? Icelandair offers low fares on North American flights for those traveling from Europe on vacation or business. Plan your trip from Scotland to North America, book those flights, and fly from Aberdeen to Vancouver! Icelandair is a trusted airline with 75 years' experience and when you fly with us you can look forward to enjoying: our reliable on-time performance, complimentary seat booking and many extras, like complimentary food and toy for children. And then you might even pick up a few Icelandic phrases.
Cheap flights to Canada
Use Icelandair to fly from Aberdeen to Vancouver. On your way, stop for a short while in Iceland to quickly change planes or why not have a few days in magical Iceland? Iceland is a country of contrasts with volcanoes and glaciers, long summers and cozy candle lit winter days. Choose from enjoying a city break in Reykjavik or venturing further afield and exploring our stunning countryside and landscape. Find out what a lopopeysa is and treat your taste buds to fermented shark or lobster soup. So say "cheerio" to the Granite City and book your flights to Canada.
A tip to Vancouver isn't complete without spending time on the water. How about a fireworks cruise, an authentic paddle boat or maybe a lunch cruise? For gorgeous gardens, be sure to check out The VanDusen Botanical Gardens on the west of Vancouver. Rated one of the best botanical gardens in the world, there's also an Elizabethan maze to have fun in.
Check Icelandair's cheap European airfares from Aberdeen (ABZ), Scotland to Vancouver (YVR), Canada and plan your vacation now!
Enjoy a Stopover in Iceland!
Fly to Canada from Europe! Flying from Aberdeen to Vancouver, why not stopover in Iceland? You could quickly change planes and be in and out of the airport in under an hour or take a few extra hours and relax in the calming warm waters of the Blue Lagoon. Or, stay up to 7 nights at no extra cost and go puffin watching, listen to the latest Icelandic bands and find out about Icelandic culture in our museums and galleries.
Fly to USA: ABZ to YVR airport info:
Make fast, easy connections with Icelandair.  Our flight network is set up to easily change planes and connect to your ongoing flight. Flights from Europe to North America are scheduled so that stopovers in Iceland are normally between 30 and 60 minutes.
Travelers from Aberdeen (ABZ), Scotland to Vancouver (YVR), Canada who would like to experience the many delights of Iceland may be able to extend their stopover to have time to enjoy sanctuary of the Blue Lagoon or soak up the cool coffee culture and happy hour festivities in Reykjavik.
The distance from Aberdeen Airport (ABZ) to Vancouver International Airport (YVR) is approximately 4,350 miles/7,001 km.
In Vancouver, the airport is usually called Vancouver International Airport. It has won a number of international best airport awards, for example, it won Skytrax Best North American Airport award in 2010, 2011, 2012 and 2013.
Vancouver International Airport (YVR) has 3 terminals and the cheery Green Coat Volunteers waiting to help you in these terminals collectively speak 28 languages.
Vancouver International Airport (YVR) is located on Sea Island, Richmond, British Columbia and is about 12km from central Vancouver.
Who's Leifur Elríksson? On routes from Europe to North America, we want to share some gems about our homeland, so we've added some info about our country all around the plane, even naming each food item after natural, Icelandic wonders.
On flights from Aberdeen to Vancouver you can: watch an Icelandic movie (with or without subtitles, the choice is yours), treat yourself to an Icelandic donut and enjoy our pure, glacial water.
A complimentary warm meal for children is offered on all Icelandair flights from Europe to North America. And the packaging can turn into a creative kid's toy.
Relax on your trip to Vancouver. Blankets & pillows are in every seat on European routes to North America—they even come with a sweet, Icelandic lullaby.
For travelling in the lap of luxury, fly Saga Class. Stretch out in 40 inches of legroom and enjoy the bliss created by our noise cancelling earphones. Heaven.
The personal inflight entertainment system is available on nearly every flight from Europe to North America and it has a wide selection of programming for all the family meaning there's something for everyone.
Want to explore the Icelandic music scene from the comfort of your seat? Rock? Pop? Jazz? Our music choice has a full range of tracks you'll want to tune in to.
Use Icelandair to fly from Aberdeen, Scotland to Vancouver, Canada for your next vacation and you will have the distinct pleasure of flying the only airline in the world that names its planes after volcanoes. Now, try to pronounce this one: Eyjafjallajökull. Tricky? Try again, like this: "AY-uh-fyat-luh-YOE-kuutl-uh." There. Now you can speak Icelandic.
From Vancouver city center, you can get to Vancouver International Airport (YVR) by taking The Canada Line, a fast transit rail link. From downtown Vancouver it takes 26 minutes and from downtown Richmond it takes 18 minutes.
For curious minds who want to play and explore, visit the Kids Market, a play area that also sells handcrafted, educational toys, many of which are locally made.
Punjabi Market is six blocks of all things Indian and a rainbow of color to delight your senses; shimmering silks, bright bangles and spiced samosas.
Feeling adventurous? The Capilano Suspension Bridge, 70 meters high and 137 meters long is thrilling. And a little wobbly. Experience it at Christmas time covered in a ribbon of fairy lights.
Share flights from Aberdeen to Vancouver