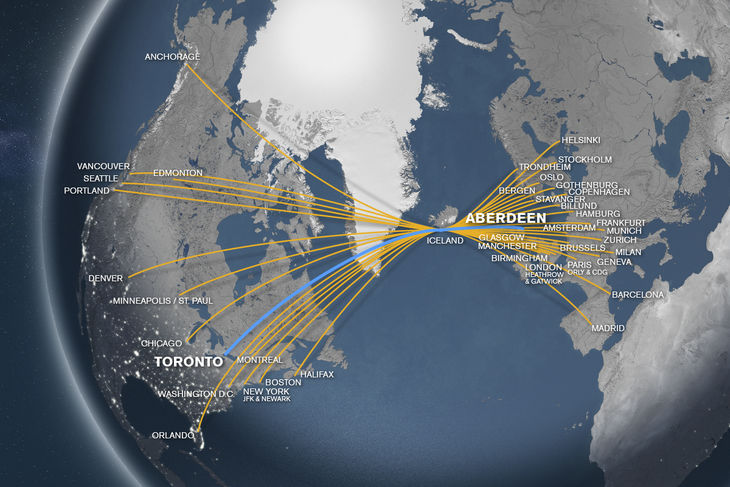 Buy your tickets from Aberdeen (ABZ), Scotland to Toronto (YYZ), Ontario, Canada. Icelandair has low prices on North American flights for travelers from Europe going on holiday or business. Plan your journey from Europe to Canada and buy your flights from the Granite City to Toronto. Icelandair is an airline that has been trusted for over 75 years and when you fly with us you can look forward to: our great on-time performance, complimentary seat booking and a complimentary meal and toy for your child. And who knows, you could even pick up a little Icelandic and learn to speak like a Viking.
Cheap flights to Canada
Use Icelandair to fly from Aberdeen to Toronto. On your way, stop briefly in Iceland to change planes or why not treat yourself to a short break in Iceland? Our glaciers, volcanoes and fjords are just waiting to be explored. And if you like to party, you'll love Reykjavik's fun and friendly night life. So say "cheerio" to Aberdeen and fly to Toronto, Ontario and get those flights to Canada.
Get on your bike! We mean this in the nicest way possible. Toronto is a city for cyclists. Hire a bike and cross the entire city and explore the environmental way whilst getting in a great workout. Alternatively, see Toronto from a different angle with the hands free walk perched on the edge of the CN Tower. Or a more laid back way to take in the view can be found over a refreshment in the comfort of the Roof Lounge in the Park Hyatt.
Check Icelandair's cheap European airfares from Aberdeen (ABZ), Scotland to Toronto (YYZ), in Canada and plan your vacation now!
Enjoy a Stopover in Iceland!
Fly to Canada from Europe! Flying from Aberdeen to Toronto, why not stopover in Iceland? You could simply change planes and be in and out of the airport in under an hour or take a few extra hours and relax and revive in the soft, silky waters of the Blue Lagoon. Or, stay up to 7 nights at no extra charge and live like a Viking. Rotten shark, anyone? Dried fish? Fresh blueberries? Or perhaps some creamy skyr desert? After tantalizing your taste buds you can share in the local chat in our relaxing, geothermal hot tubs poolside.
Fly to Canada: ABZ to YYZ airport info:
Make fast, easy connections with Icelandair.  Our flight network is set up to quickly change planes and connect to your ongoing flight. Flights from Europe to North America are scheduled so that stopovers in Iceland are roughly between 30 and 60 minutes.
Travelers from Aberdeen (ABZ) to Toronto (YYZ), Canada who want to explore Iceland could be able to extend their stopover to pamper themselves in the warm waters of the Blue Lagoon or enjoy our many museums and galleries about all things Viking.
The distance from Aberdeen Airport (ABZ) to Toronto International Airport (YYZ) is approximately 3,332 miles/5,362 km.
In Toronto, the airport is normally called Toronto Pearson International Airport. It's also called Lester B. Pearson International Airport and Pearson Airport or Toronto Pearson. Lester B. Pearson was the 14th Prime Minister of Canada and Nobel Peace Prize Winner.
Toronto International Airport (YYZ) has 2 terminals, terminal 1 and terminal 3. Terminal 2 was in operation until 2007 and demolished in 2008.
Toronto International Airport (YYZ) is close to downtown Toronto and is less than 23km northwest from the city centre.
Who's Leifur Eríksson? On routes from Europe to North America we want to share a few fun facts about our Nordic home, so we've added pieces of info about our country around the plane, even naming each food item after natural Icelandic wonders.
On flights from Aberdeen to Toronto you can: pick up a couple of simple Icelandic phrases, watch an Icelandic movie (with or without the English subtitles) and sip our refreshing, glacial water.
A complimentary warm meal for children is offered on all Icelandair flights from Europe to North America. And the packaging then turns into a kid's toy. Genius.
Relax on your flight to Toronto. Blankets & pillows are in every seat on European routes to North America—they even come with a sweet, Icelandic lullaby.
Saga Class is just the ticket for those who love to travel in style. You'll love our gourmet menu and fine wine selection on board. And to secure your very own "me" time, we've got noise cancelling headphones for you. Perfect!
The personal inflight entertainment system is available on nearly every flight from Europe to North America and has programming to suit the whole family. Go on, let your little ones catch up with the colorful adventures of Angelina Ballerina.
Movie lover? Our onboard selection has films to thrill you and make you giggle.
Use Icelandair to fly from Aberdeen, Scotland to Toronto, Canada for your next vacation and you will have the distinct pleasure of flying the only airline in the world that calls its planes after volcanoes. Now, try to pronounce this one: Eyjafjallajökull. Tricky? Try again, like this: "AY-uh-fyat-luh-YOE-kuutl-uh." There. Now you're almost Icelandic.
From Toronto city center, you can travel to Toronto International Airport (YYZ) by public transit on the Toronto Transit Commission or GO Transit or by the Toronto Airport Express Coach from a range of downtown locations.
Heard of the Toronto Islands? Get back to nature with a spot of bird watching or for the more adventurous you can really get back to nature and relax on the nudist beach.
The hill of Casa Loma offers a look into the lavish lifestyles of Toronto's elite of the 19th century. Prepare to be goggle eyed at the Italian glass domed conservatory, secret passage ways and water features.
Although you're in Toronto, Chinatown is just a mere hop, skip and jump away. And there are 3 Chinatowns to choose from where you can get your fill of Asian food, fashions and at New Year time, fireworks.
Share flights from Aberdeen to Toronto