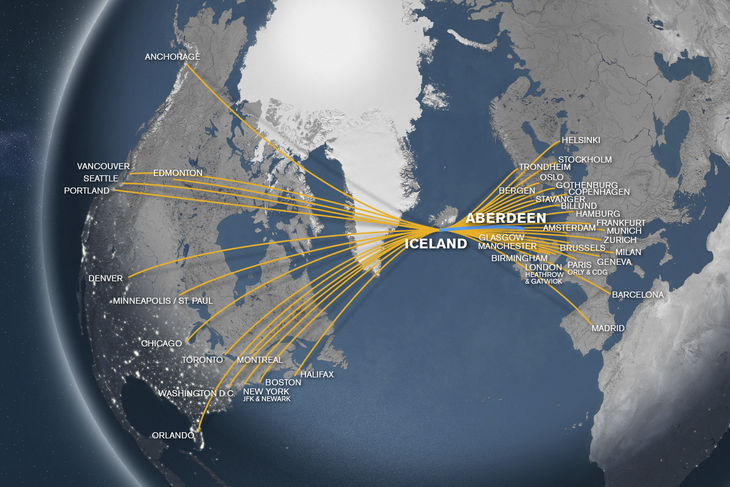 Are you after low cost flights from Aberdeen (ABZ), Scotland to Reykjavik (KEF), Iceland? Icelandair has great fares on Icelandic flights for those traveling to Iceland on holiday or business. Plan your journey from Scotland to Iceland, buy your tickets, and fly from the Granite City to Reykjavík. Icelandair is a trusted airline with over 75 years of experience, so you know you can look forward to enjoying: our reliable on-time performance, our top entertainment system and complimentary seat selection. And, who knows, maybe you could pick up the odd Icelandic phrase on your trip.
Cheap flights to Iceland 
Choose Icelandair to fly from Aberdeen to Reykjavik.
Welcome to Iceland, the Nordic land of Fire and Ice, where sophistication meets adventure. It's an ideal place to enjoy a city break in Europe's most northern capital or escape into the countryside to connect with nature. Look forward to dining on mouthwatering Icelandic cuisine; lamb, lobster and our creamy desert, skyr. Fancy exploring? How about trekking on a glacier, discovering the colorful depths of a volcano or soaking in a natural, hot spring? So say "cheerio" to Aberdeen and shopping in Union Street and buy those flights to Reykjavik.
Looking to find out about Vikings? You'll love Iceland's imaginative museums. For outdoor lovers you'll find yourself in paradise surrounded by glaciers, volcanoes and lava fields and explorers can spend happy days caving, hiking or skiing.
Check Icelandair's low cost European airfares from Aberdeen (ABZ) to Reykjavik (KEF) and plan your vacation now!
Fly to USA: ABZ to KEF airport info:
The distance from Aberdeen Airport (ABZ) to Reykjavik International Airport (KEF) is approximately 830 miles/ 1336 km.
Keflavik International Airport (KEF) is located approximately 50 kilometers or 31 miles southwest of downtown Reykjavik.  
The full name of the airport is: Keflavik International Airport. However, as not too many folk know that Keflavik is a small city just outside of Reykjavik, it's often called Reykjavik Keflavik International Airport. Some people just call it Keflavik.
Keflavik International Airport (KEF) has 1 terminal, formerly called The Leifur Eriksson Air Terminal.  Leifur Eriksson was a Norse explorer who is thought to be the first European to set foot on North America five centuries before Columbus.
Who is Ingólfur Arnarson and what's he got to do with napkins? On routes from Europe to North America, we want to share some fun facts about our home country, so we've added some info about Iceland all around the plane, even naming each food item after natural wonders.
On flights from Aberdeen to Reykjavik you can: learn a couple of Icelandic phrases, try a tasty, Icelandic donut and enjoy our world famous, glacial water.
In the peak of summer, Icelandair flies up to X flights per week on trips from Aberdeen (ABZ) to Reykjavik (KEF)
Relax on your travels to Reykjavik. Complimentary blankets & pillows are available on every flight - they even come with a soothing, Icelandic lullaby. Sweet.
Travel in luxury with Saga Class. Your journey begins with some relaxation in our Saga lounge for a buffet and refreshments before enjoying extra space on board - and wait until you experience our noise cancelling earphones. Just heaven.
The personal inflight entertainment system is available on nearly every flight from Europe and has a wide range of films, series and music for everyone. With over 150 hours of programs, there's entertainment to keep everyone entertained.
Music lover? We've 40 albums and 7 unique playlists to choose from. What will you choose to listen to first?
Use Icelandair to fly from Aberdeen to Reykjavik for your next vacation and you will have the distinct pleasure of flying the only airline in the world that names its planes after volcanoes. Now, try to pronounce this one: Eyjafjallajökull. Bit of a mouthful, yes? Try again. "AY-uh-fyat-luh-YOE-kuutl-uh" Easier? There. Now you speak Icelandic.
There is another small airport in Reykjavik near the city center. But unless you are travelling by private jet or flying to other parts of Iceland, Greenland, or the Faroe Islands, you'll be landing at Keflavik International Airport.
Experience the thrill of horseback riding on a black, volcanic beach on the shores of the North Atlantic. 
Night owls will feel right at home in Reykjavik's lively pubs and clubs.
Anyone for golf? At midnight? Check out Iceland's 24 hours daylight in the summer. And in the darker months, enjoy the coziness and welcoming candle lights.
Share flights from Aberdeen to Reykjavík