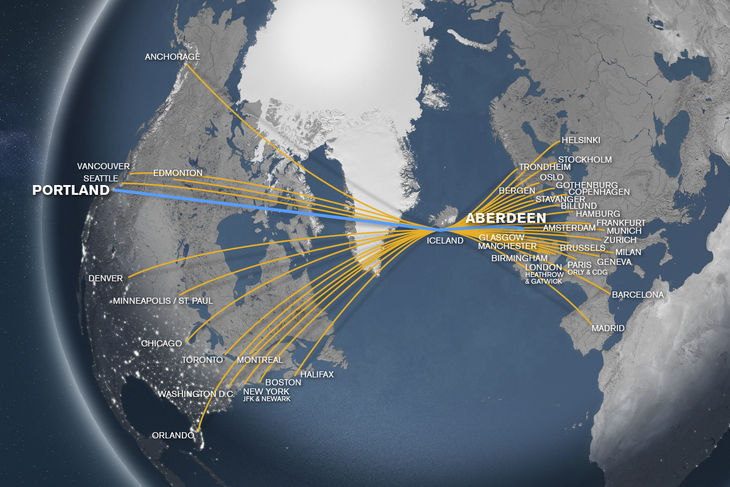 Book your trip from Aberdeen (ABZ), Scotland to Portland (PDX), Oregon, U.S.A. Icelandair offers you great, low prices on North American flights for those flying from Aberdeen. Organize your trip from Scotland to U.S.A., buy your tickets, and fly from the Granite City to Stumpton in Oregon. As an experienced airline with over 75 years of experience, Icelandair is proud to offer our range of services: our reliable on-time performance, looking after our young passengers with complimentary food and toy for children and letting you choose your seat – for free! And perhaps you can learn some new phrases in Icelandic and impress people with your new language skills.
Cheap flights to USA 
Choose Icelandair to fly from Aberdeen to Portland. On your travels, change planes in Iceland or why not treat yourself and spend a few days in Reykjavik and explore Iceland? Salmon fish in a glacial river, venture out into the North Atlantic whale watching or trek across the icy vastness of a glacier. So, say "cheerio" to Aberdeen and organize those flights to Portland in gorgeously green Oregon.
Portland is fabulous for winter sports. Just 90 minutes' drive from the city takes you to Mount Hood, boasting 11 lifts and 85 runs for every level of skier. For fans of skiing under velvet, dark skies there's the Ski Bowl, the largest night ski area in the country. For adventure of a different kind visit OMSI, Oregon Museum of Science and Industry, to check out their many adventures - tour a submarine or travel across the universe in a planetarium.
Check Icelandair's low cost airfares from Aberdeen (ABZ) to Portland (PDX) and plan your vacation now!
Enjoy a Stopover in Iceland! Why not break your travels with a short trip in Iceland?
Fly to U.S.A. from Scotland! Flying from Aberdeen to Portland, why not stopover in Iceland? You could simply change planes and be in and out of the airport in under an hour or take a few extra hours and indulge in the spa facilities of the Blue Lagoon. Or, stay up to 7 days at no extra charge and have a mouthwatering extravaganza with the freshest Icelandic ingredients in Reykjavik's restaurants, learn about all things Viking in our museums or explore the Icelandic landscape from a helicopter tour. 
Fly to USA: ABZ to PDX airport info:
Make fast, easy connections with Icelandair.  Our flight network is set up to easily change planes and connect to your onward flight. Flights from Aberdeen to Portland are scheduled such that stopovers in Iceland are normally between 30 and 60 minutes.
Travelers from Aberdeen (ABZ), Scotland to Portland (PDX), U.S.A. who wish to explore Iceland may be able to extend their trip and enjoy a stopover. Get your camera ready for our geysers, waterfalls and lagoons and pack those hiking boots to explore our volcanoes and glaciers.
The distance from Aberdeen Airport (ABZ) to Portland International Airport (PDX) is approximately 4,549 miles/7,321 km.
The airport in Portland is approximately 15 km north east of downtown Portland.  
Portland Airport has free Wi-Fi meaning you can always be sure you'll stay connected.
Did you know that there's a cycle and pedestrian path that connects Portland International Airport to regional trains?
To reach downtown Portland it's an easy 20-30 minutes by taxi or 40 minutes' journey by light rail. 
Who is Ingólfur Arnarson and what's he got to do with napkins? On routes from Scotland to North America, we want to share some things about our amazing home, so we've added some info about our country all around the plane, even naming each food item after natural, Icelandic wonders.
Transatlantic flights from ABZ to PDX typically use two types of aircraft: name here
The average flying time for flights from ABZ to PDX is X.
On flights from Aberdeen to Portland you can: watch an Icelandic movie (yes, we've subtitles), savor an Icelandic donut and enjoy our world famous, glacial water.
In the peak of summer, Icelandair flies up to X flights per week on trips from Aberdeen (ABZ) to Portland (PDX)
A complimentary warm meal for children is offered on all Icelandair flights from Scotland to U.S.A. And the packaging changes into a kid's toy. Cool.
Relax on your travels to Portland. Complimentary blankets & pillows are available on every flight - they even come with a sweet, Icelandic lullaby.
Treat yourself to Icelandair's Saga Class. Your experience starts with a complimentary visit to our cozy Saga lounge for treats and refreshments before a gourmet meal on board.
The personal inflight entertainment system is available on nearly every flight from Scotland to the U.S.A. and it offers 150 hours of films, series and music for the whole family.
Music lover? Look forward to choosing from 40 albums and 7 unique playlists.
Use Icelandair to fly from Aberdeen to Portland for your next vacation and you will have the distinct pleasure of flying the only airline in the world that names its planes after volcanoes. Now, try to pronounce this one: Eyjafjallajökull. Tricky? Try again. "AY-uh-fyat-luh-YOE-kuutl-uh" Simpler, yes? Now you can speak Icelandic.
You can get directly from downtown Portland to Portland International Airport (PDX) via MAX light rail train.
For local arts and crafts look no further than the State's largest weekly open air market at Portland Saturday Market. Browse the many stalls, sample some international snacks and enjoy the live music.
Astoria, a fishing town in the north west of Oregon, is perfect for antiquing and art galleries. Check out the 125 foot Astoria Column illustrating Oregon's heritage.
Can't decide what to eat? No problem! Have a little of everything from the many food carts helpfully grouped in "pods" around the city.
Share flights from Aberdeen to Portland