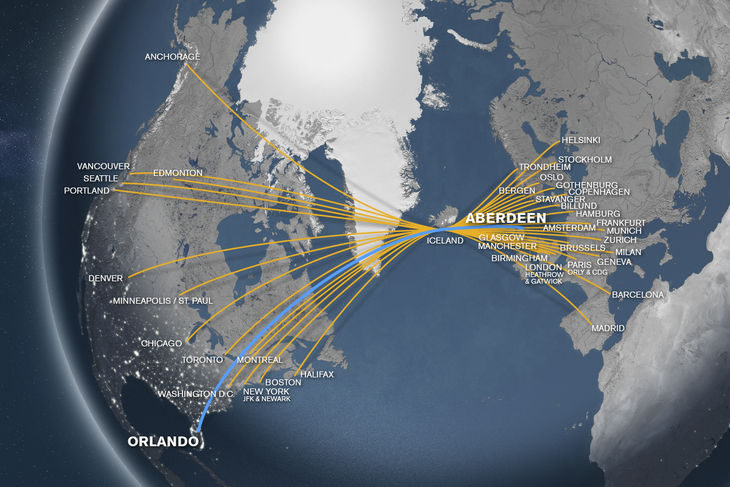 Book that trip from Aberdeen (ABZ), Scotland to Orlando (MCO), Florida, USA. Icelandair offers you great prices for those travelling on business or vacation from Scotland's Granite City. Organize your trip to the U.S., book your tickets, and fly from Aberdeen to Orlando. Icelandair has been a trusted airline for over 75 years, so when you travel with us you can be assured of our quality range of services: our punctual on-time performance, our special services for young travelers with complimentary food and toy for children and we also let you choose your seat – at no extra cost. To add a cherry on top we throw in a few extras - so you can look forward to learning a little local Icelandic lingo on your flight.
Cheap flights to USA 
Use Icelandair to fly from Aberdeen to Orlando. On your way, stop for a short while in Iceland to change planes or why not explore the magic of the Land of Fire and Ice? Venture out and explore Iceland's wide, open landscape with its glaciers, volcanos and ancient lava fields. Or pack those party clothes and paint the town red in Reykjavík's lively nightlife. So say "cheerio" to Aberdeen and get your flights to Orlando, Florida.
If there's one things Orlando knows how to do it's to shop. With 12 shopping malls and outlet centers within a 15 miles radius its retail space fills 900 football fields. A true paradise for shoppers! For a different kind of fun, how about a splash in the sun? Disney's water parks will thrill you. Choose from Blizzard Beach, Summit Plummet or Typhoon Lagoon.
Check Icelandair's low cost European airfares from Aberdeen (ABZ) to Orlando (MCO) and plan your vacation now!
Enjoy a Stopover in Iceland!
Fly to the USA from Europe! Flying from Aberdeen to Orlando, why not stopover in Iceland? You could simply change planes and be in and out of the airport in under an hour or take a few extra hours and relax in the soft, silica waters of the Blue Lagoon. Or, stay up to 7 nights at no extra charge and snorkel in some of the clearest water in the world, live like a Viking (petrified shark, anyone?) or ski across one of Europe's largest glaciers.
Fly to USA: ABZ to MCO airport info:
Make fast, easy connections with Icelandair.  Our flight network is set up to easily change planes and connect to your onward flight. Flights from Europe to North America are scheduled such that stopovers in Iceland are normally between 30 and 60 minutes.
Travelers from Aberdeen (ABZ), Scotland to Orlando (MCO), USA who would like to explore Iceland may be able to extend their stopover and horseback ride across a black volcanic beach or go whale watching.
The distance from Aberdeen Airport (ABZ) to Orlando International Airport (MCO) is approximately 4,188 miles/6,740km.
Orlando International Airport is 6 miles south east of Orlando, Florida. The airport has one terminal divided into two, terminal A and B, and four concourses. There's also a hotel, the Hyatt Regency, in the main terminal itself.
Orlando International Airport (MCO) has an AGT train system within the airport. Although these train journeys take only a few minutes you can get a fabulous view of the gardens and waterways of the airport on these short trips.
Orlando Airport (MCO) has a host of car rentals, limousines and shuttles and if you're staying at a Walk Disney World Resort Hotel there's a complimentary coach service.
Who is Ingólfur Arnarson and what's he got to do with napkins? On routes from Europe to North America, we want you to feel like you've gotten to know a little about Iceland, so we've added some info about our country throughout the plane, even naming each food item after natural, Icelandic wonders.
On flights from Aberdeen to Orlando you can: watch an Icelandic movie (don't worry, we've subtitles), enjoy a tasty Icelandic donut and sip our famous, glacial water.
A complimentary warm meal for children is offered on all Icelandair flights from Europe to the USA. And the packaging can then turn into a kid's toy. Cool.
Relax on your trip to Orlando. Blankets & pillows are in every seat on European routes to North America—they even come with a lovely, Icelandic lullaby.
Be good to yourself and fly Saga Class. Your trip begins with a complimentary visit to our comfy Saga lounge for a buffet and refreshments before deluxe dining on board.
The personal inflight entertainment system is available on nearly every flight from Europe to the US and has programming for everyone. How much choice, exactly? Over 150 hours of programs!
Sit back and enjoy the wide variety of music we've on board. Offering 40 albums and 7 unique playlists, there's something to fit everyone's mood.
Use Icelandair to fly from Aberdeen to Orlando for your next vacation and you will have the distinct pleasure of flying the only airline in the world that names its planes after volcanoes. Now, try to pronounce this one: Eyjafjallajökull. Tongue twister, yes? Try again. "AY-uh-fyat-luh-YOE-kuutl-uh" Better? Now you can speak Icelandic.
From downtown Orlando City center, buses leave every 30 minutes to Orlando International Airport (MCO) and many airport hotels have free airport shuttle services.
A golf lover? There are 170 golf courses and 20 golf academies to choose from not to mention courses designed by Nicklaus, Fazio and Dye.
Giraffes, rhinos and Nile Crocodiles in Orlando? You bet. The Wild Africa Trek tour brings the savanna directly to you.
At Epcot, meet Figment, the friendly, purple dragon who takes youngsters through Dr Channing' sensory labs where little ones learn about the 5 senses through fun and laughter.
Share flights from Aberdeen to Orlando