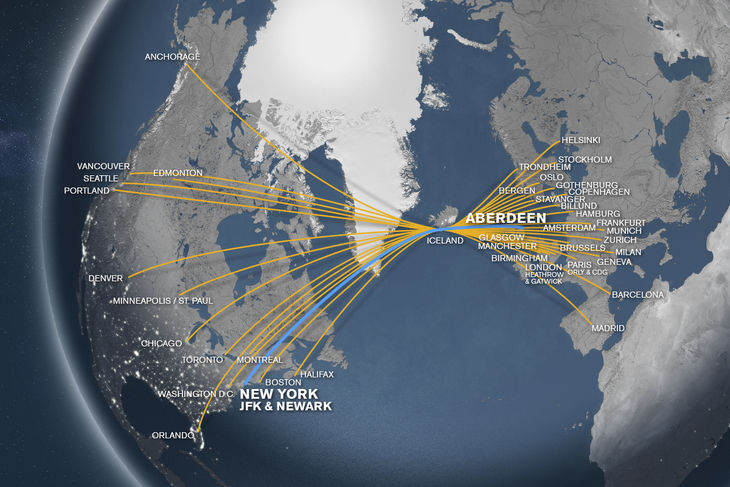 Looking for great, low cost flights from Aberdeen (ABZ), Scotland to New York (JFK), USA? Icelandair offers you low prices on North American flights for those traveling from Europe on holiday and business.  Plan your trip from Scotland to the States, book your flights, and fly from Aberdeen to New York. As a trusted airline for over 75 years, when you travel with us at Icelandair you can look forward to: our reliable on-time performance, a full range of complimentary seat selection and our great entertainment system for all the family. And who knows, you could pick up some phrases in Icelandic and learn to speak like a Viking. Now, wouldn't that be something?
Cheap flights to USA 
Use Icelandair to fly from Aberdeen to New York. On your way, stop briefly in Iceland to change planes or why not take a few days and explore Iceland? Want to live like a local? Start your day with a dip in our geothermal swimming pools and catch up on the chat in the hot tubs. Music lovers can check out the sounds of the latest Icelandic bands and outdoor enthusiasts will be right at home in Iceland's stunning nature. So say "farewell" to Aberdeen and book tickets to fly to The Big Apple.
What better way to experience the energy of New York than at Grand Central? Try out the Whispering Gallery and enjoy the fabulous views from the secret passageways. For views of a different kind, venture out into the Hudson Highlands and Bear Mountain, only 45 miles north of New York. Check Icelandair's low cost European airfares from Aberdeen (ABZ) to New York (JFK) and plan your vacation now!
Enjoy a Stopover in Iceland!
Fly to the USA from Europe! Flying from Aberdeen to New York, why not stopover in Iceland? You could swiftly change planes and be in and out of the airport in under an hour or take a few extra hours and relax in the soothing waters of the Blue Lagoon. Or, stay up to 7 nights at no extra charge and trek on a glacier, white water raft on glacial river or sail on a tranquil, glacial lagoon. And for those that prefer a city break, Reykjavik's cozy cafes and cultural museums are perfect for a few days' exploration.
Fly to USA: ABZ to JFK airport info:
Make fast, easy connections with Icelandair.  Our flight network is set up to easily change planes and connect to your onward flight. Flights from Europe to North America are scheduled such that stopovers in Iceland are typically between 30 and 60 minutes.
Travelers from Aberdeen (ABZ), Scotland to New York (JFK), USA who wish to explore Iceland may be able to extend their stopover to have time to find out the latest in the world of Icelandic fashion, art and design.
The distance from Aberdeen Airport (ABZ) to John F Kennedy International Airport (JFK) is approximately 3,270 miles/5,263 km.
In New York, the airport is usually called JFK. Officially it is John F Kennedy International Airport. It used to be called New York International Airport- Anderson Field, and then in 1963 it was renamed John F Kennedy International Airport in memory of the former American president.
John F Kennedy International Airport (JFK) has 6 terminals and the AirTrain, a free light-rail service, connects these terminals.
John F Kennedy International Airport (JFK) is 15 miles from down-town Manhattan in the south east of Queens.
Who is Ingólfur Arnarson and what's he got to do with napkins? On routes from Europe to North America, we want share some fun facts about Iceland, so we've added little bits of info about our country all around the plane, even naming each food item after natural, Icelandic wonders.
Shorten your flying time! Because of Icelandair's northerly routes, the duration of flights from Aberdeen to New York is often significantly less than other airlines.
On flights from Aberdeen to New York you can: watch an Icelandic movie or two (with or without subtitles, the choice is yours), enjoy an Icelandic donut and drink our refreshing, world famous, glacial water.
A complimentary warm meal for children is served on all Icelandair flights from Europe to the USA. And the packaging then changes into a kid's toy. Creative stuff.
Blankets & pillows are in every seat on European routes to North America—they even come with a gentle, Icelandic lullaby.
Travel in style and treat yourself with Icelandair's Saga Class. Your trip starts with a complimentary visit to our comfortable Saga lounge for refreshments and goodies before enjoying extra leg room and extra space on board.
The personal inflight entertainment system is available on nearly every flight from Europe to the US and has programming for all the family. How much choice? Over 150 hours of programs!
Music lover? Choose from reggae, rock, pop or jazz on 40 albums and 7 unique playlists.
Use Icelandair to fly from Aberdeen to New York for your next vacation and you will have the distinct pleasure of flying the only airline in the world that names its planes after volcanoes. Now, try to pronounce this one: Eyjafjallajökull. Bit of a mouthful? Try again. "AY-uh-fyat-luh-YOE-kuutl-uh" That's easier, isn't it?  Now you can speak Icelandic.
From New York City center, you can get to John F Kennedy International Airport (JFK) by taking the Long Island Railroad (LIRR) from Penn Station or travel by subway and then AirTrain.
Why not explore Central Park with pedal power? Rent a bicycle and ride to the sights such as the Alice in Wonderland Sculpture and the Imagine Mosaic, a tribute to John Lennon.
Soak up the majestic architecture of the Empire State Building. Zoom up to the 102nd floor to the observation tower for views over the whole city.
The High Line is a park with a neat twist. Situated 30 floors above New York's streets, it mixes the rural and urban pulse of New York life.
Share flights from Aberdeen to New York (JFK)