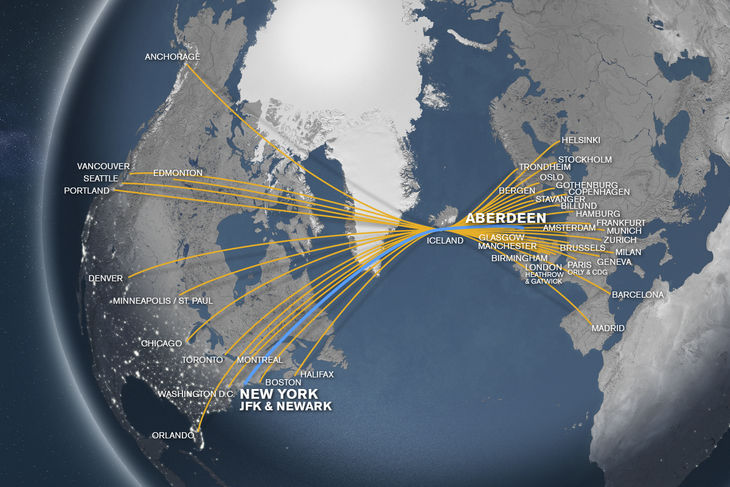 Organize your trip from Aberdeen (ABZ), Scotland to New York (EWR). Icelandair has a great range of low fares to suit all budgets on North American flights for those travelling from Europe for pleasure or business. Plan your journey from Scotland to North America, book those tickets and look forward to flying Icelandair from Aberdeen to New York! With its many skyscrapers, discover why the Big Apple's motto is "excelsior" (still higher). Icelandair has over 75 years' experience as a trusted airline and when you fly with us you can be confident about: our reliable, on time performance, a full choice of complimentary seat booking and a top rate entertainment system.  And you might even pick up a few Icelandic sayings.
Cheap flights to USA 
Use Icelandair to fly from Aberdeen to New York. On your way, stop briefly in Iceland to change planes or why not choose a stopover and find out what makes Iceland both hot and cool? Explore the colorful and magical depths of a volcano, learn about all things Viking in our museums or get your glad rags on and enjoy the wining and dining scene in Reykjavik's restaurants. So say "cheerio" to Aberdeen and buy those flights to the skyscraper city of New York.
What better way to get to know New York than by visiting one of her most famous residents, Central Park? Rent a bike or just stroll around its green 843 acres and enjoy its bridges, canopy of trees and lakes. For a spot with a great view over New York Harbor visit Battery Park at the tip of Manhattan.  On this waterfront area you can also enjoy a trip to Ellis Island and the iconic Statue of Liberty.
Check Icelandair's cheap European airfares from Aberdeen (ABZ) to New York (EWR) and plan your vacation now!
Enjoy a Stopover in Iceland! Why not break your travels with a short trip in Iceland?
Fly to the USA from Europe! Flying from Aberdeen to New York, why not stopover in Iceland? You could simply change planes and be in and out of the airport in under an hour or take a few extra hours and find your bliss in the Blue Lagoon. Or, stay up to 7 nights at no extra charge and get to know what's hot on the cool Icelandic design scene or walk on the very spot where the North American and Eurasian continents connect on the Golden Circle tour. And have you ever been up close to a puffin? Now's your chance.
Fly to USA: ABZ to EWR airport info:
Make fast, easy connections with Icelandair.  Our flight network is set up to easily change planes and connect to your onward flight. Flights from Europe to North America are scheduled such that stopovers in Iceland are between 30 and 60 minutes.
Travelers from Aberdeen (ABZ), Europe to New York (EWR), U.S.A. who want to enjoy Iceland might be able to extend their stopover to have time to go whale watching or discover all things Viking in our range of museums and galleries.
The distance from Aberdeen Airport (ABZ) to Newark Liberty International Airport (EWR) is approximately 3,282 miles/5,282 km.
In New York, at Newark Liberty International Airport EWR, the airport is usually called Newark International Airport. It used to be called Newark Metropolitan Airport.
Newark International Airport (EWR) has 3 passenger terminals, A, B and C, and the free AirTrain, a light-rail service, connects the terminals with parking lots, garages and rental car companies.
Newark International Airport (EWR) is just 15 miles southwest of Midtown Manhattan in New York.
Who is Ingólfur Arnarson and what's he got to do with napkins? On routes from Europe to North America, we want to let you in on some cool facts about Iceland, so we've put info about our country all around the plane, even naming each food item after natural, Icelandic wonders.
On flights from Aberdeen to New York you can: learn a few simple Icelandic phrases, treat yourself to a tasty Icelandic donut and enjoy our pure, glacial water.
A complimentary warm meal for children is offered on all Icelandair flights from Europe to the USA. And the packaging can be turned into a kid's toy. Genius.
Relax on your flight to New York. Blankets & pillows are in every seat on European routes to North America - they even come with a cute, Icelandic lullaby.
Be good to yourself with Icelandair's Saga Class. Your experience starts with a complimentary visit to our Saga lounge for a delicious buffet and refreshments before enjoying extra leg room, extra space and extra privacy onboard.
Our personal inflight entertainment system is available on nearly every flight from Europe to the US and it offers programming for the whole family. Go on, let your little ones enjoy the adventures of Angelina Ballerina and Lazy Town.
Fancy some music on your Icelandair flight? Choose from over 40 albums and 7 unique playlists.
Use Icelandair to fly from Aberdeen to New York for your next vacation and you will have the distinct pleasure of flying the only airline in the world that names its planes after volcanoes. Now, try to pronounce this one: Eyjafjallajökull. Bit difficult? Try again. "AY-uh-fyat-luh-YOE-kuutl-uh." A bit easier? There. Now you speak Icelandic.
From New York City center, you can get to Newark International Airport (EWR) by taking Amtrak or NJ Transit, both which run a regular service.
Film aficionados will want to check out New York's Film Forum with its thoughtful documentaries and films from top international festivals.
Be entranced with the art deco at the majestic Empire State Building. Take the lift to 102nd floor where the observation tower boasts views stretching across the city.
The High Line, a park 30 floors above New York's sidewalks, explores the Big Apple from a different angle and offers a rural and urban side to New York life.
Share flights from Aberdeen to New York (EWR)