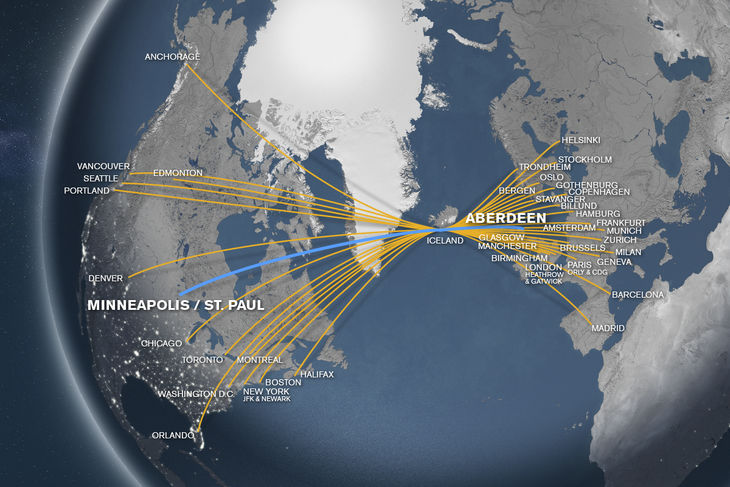 Organize your flight from Aberdeen (ABZ), Scotland to Minneapolis-St. Paul (MSP), Minnesota, USA. Icelandair has a great range of low fares on North American flights for those travelling from Europe for pleasure or business. Plan your journey from Scotland to North America, book those tickets and fly from Aberdeen to Minneapolis-St. Paul! With over 75 years' experience, Icelandair is a trusted airline and when you fly with us you can be confident about: our reliable, on time performance, complimentary seat booking and a top rate entertainment system.  And as an extra, you could even learn a few Icelandic sayings.
Cheap flights to USA 
Use Icelandair to fly from Aberdeen to Minneapolis-St. Paul. On your way, stop for a short time in Iceland to change planes or why not treat yourself and have a few days fun in the Nordic Land of Fire and Ice? Iceland has something for every kind of traveler. Wanting to relax for a few days? Take it easy in Reykjavik, sample our cool, coffee culture and dine on our delicious lamb or lobster soup. For those seeking adventure we've glaciers, volcanoes and waterfalls just waiting for you. So say "cheerio" to Aberdeen and buy your flights to Minneapolis-St. Paul.
You might have heard that Minneapolis St. Paul has a few shops, or to be more precise, more than 500 of them, in the Mall of America. So, pack your comfortable shoes! For a different kind of walk, stroll back in time to visit 19th century costumed guides at Fort Snelling, on the banks of the Mississippi and Minnesota Rivers.
Check Icelandair's low cost European airfares from Aberdeen (ABZ) to Minneapolis-St. Paul (MSP) and plan your vacation now!
Enjoy a Stopover in Iceland!
Fly to the USA from Europe! Flying from Aberdeen to Minneapolis-St. Paul, why not stopover in Iceland? You could simply change planes and be in and out of the airport in under an hour or take a few extra hours and find your bliss at the Blue Lagoon. Or, stay up to 7 nights at no extra charge and be inspired by our stunning nature. Get up close to our waterfalls, snowmobile across one of Europe's largest glaciers or simply soak in a natural hot spring.
Fly to USA: ABZ to MSP airport info:
Make fast, easy connections with Icelandair.  Our flight network is set up to easily change planes and connect to your onward flight. Flights from Europe to North America are scheduled so that connecting flights in Iceland are typically between 30 and 60 minutes.
Travelers from Aberdeen (ABZ), Scotland to Minneapolis-St. Paul (MSP), Minnesota, USA, who would like to explore Iceland can extend their stopover to experience the dancing and dazzling Northern Lights or venture into the Atlantic on a whale watching cruise.
The distance from Aberdeen Airport (ABZ) to Minneapolis-St. Paul Airport (MSP) is approximately 3,736 miles/6,013 km.
Keep a look out for Humphrey and Lindbergh – the names of each of the two terminals at Minneapolis St. Paul Airport. Named after aviator, Charles Lindbergh and former US Vice President, Hubert Humphrey, each terminal is accessed on different roadways.
Travelling between terminals is simple with the free Light Rail Service (LRT) which operates 24 x 7.
Lovers of art will enjoy the airport exhibits and performances, part of the Arts and Culture Program, which reflects the Midwest's diverse artistic community.
Who is Ingólfur Arnarson and what's he got to do with napkins? On routes from Europe to North America, we want to share some gems about Iceland, so we've put pieces of info about our country all around the plane, even naming each food item after natural, Icelandic wonders.
On flights from Aberdeen to Minneapolis-St. Paul you can: pick up a few Icelandic phrases or two, watch an Icelandic movie (with or without subtitles depending on how adventurous you feel!) and drink our refreshing, glacial water.
A complimentary warm meal for children is offered on all Icelandair flights from Europe to the USA. And the packaging can change into a kid's toy. Pretty cool.
Relax on your trip to Minneapolis-St. Paul. Blankets & pillows are in every seat on European routes to North America - they even come with an angelic, Icelandic lullaby.
For a little piece of luxury, fly Saga Class. Enjoy our extra spacious, super comfy seats, choose from our gourmet food and drinks menu and you'll always be connected thanks to our USB chargers on every seat.
The personal inflight entertainment system is available on nearly every flight from Europe to the US and it offers a full range of entertainment for you and your family. With over 150 hours of entertainment there's lots to choose from.
Love film? So do we! That's why we've created a selection of amazing films. Choose from the latest action films, old classics, and even Icelandic films (and yes, we've been kind and given you subtitles).
If it's music you're looking for, we're delighted to introduce you to the 40 albums and 7 unique playlists we've put together.
Use Icelandair to fly from Aberdeen to Minneapolis-St. Paul for your next vacation and you will have the distinct pleasure of flying the only airline in the world that names its planes after volcanoes. Now, try to pronounce this one: Eyjafjallajökull. Tricky? Bit complicated, yes? "AY-uh-fyat-luh-YOE-kuutl-uh" A bit easier? There. Now you speak Icelandic.
Downtown Minneapolis St. Paul is only 10 miles from the airport and travel between the two couldn't be easier. The Light Rail Transit is fast and frequent and stops at 17 destinations en route to the airport. From the airport itself it's a short 12 minute journey to Mall of America and 25 minutes to downtown Minneapolis.
The 2,100 ft. Stone Arch Bridge with its 23 arches is both a prime location for stunning skyline views and an inspiring, design dream.
Want to shop but like something quirky with more of an authentic feel? You'll love Midtown Global Market and its 50 stalls with goodies from America, Africa and Asia to tempt and tantalize you.
Water baby? Listen to a live concert at Lake Harriet, rent a boat on Lake Calhoun or picnic at Cedar Lake. The Chain of Lakes is the ideal place to chill.
Share flights from Aberdeen to Minneapolis-St. Paul