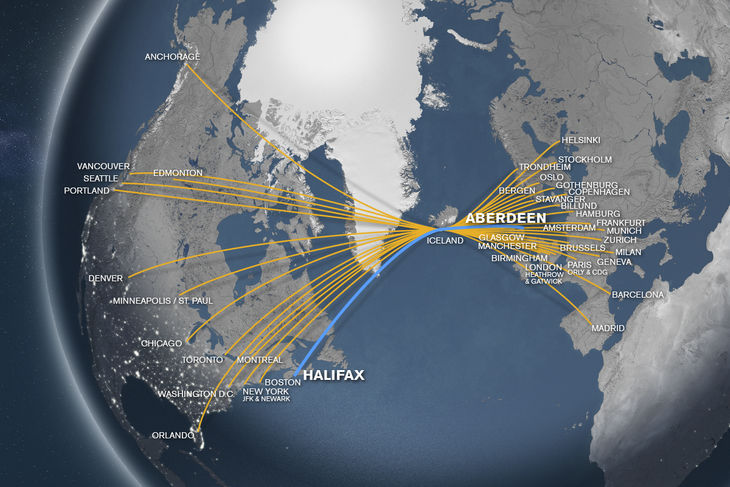 Looking for flights from Aberdeen (ABZ), to Halifax (YHZ), Nova Scotia, Canada? Icelandair offers you a range of great, low prices on North American flights for those traveling from Europe on business and vacation. Organize your journey from Europe to Canada, choose your flights, and fly from Aberdeen to beautiful coastal Halifax, Nova Scotia, Canada. Icelandair is an experienced airline, trusted for over 75 years and you can look forward to: our timely and punctual performance, complimentary seat selection and for our younger travellers, complimentary food and toy. And maybe you could even learn a little Icelandic. 
Cheap flights to Canada
Use Icelandair to fly from Aberdeen to Canada. When in Iceland you can stop to change planes or stay a few days and enjoy the Nordic delights of The Land of Fire and Ice. Ready to get all dressed up and paint the town red? Reykjavik's thriving nightlife and its many pubs, clubs and happy hours will keep you partying until the wee hours. So, wave "farewell" to Aberdeen and buy those tickets to fly to Halifax, the capital of Nova Scotia, Canada.
Start your trip with exploring the Canadian Museum of Immigration at Pier 21 where you can learn personal accounts of immigrants who called Canada their new home. And for those looking to relax, why not unwind and uncork on a wine tour? Whether you're curious about behind the scenes or want to really indulge and have some gorgeous gourmet foods to savour, there's something for everyone.
Check out Icelandair's cheap tickets from Aberdeen (ABZ) to Halifax (YHZ) and plan your vacation now!
Enjoy a Stopover in Iceland!
Fly to Canada from Europe! Flying from Aberdeen to Halifax? Why not stopover in Iceland? You could swiftly change planes and be in and out of the airport in under an hour or take a little longer and relax in the warm waters of the Blue Lagoon. Or, stay up to 7 nights at no extra cost. Music fans can enjoy the Icelandic band scene, creative types will love Iceland's fashion and design stores and for outdoor lovers, our glaciers and volcanoes are just waiting to be explored.
Fly to Canada: ABZ to YHZ airport info:
Make fast, easy connections with Icelandair.  Our flight network is set up to easily change planes and connect with your onward flight. Flights from Aberdeen to destinations in North America are scheduled so that stopovers in Iceland are between 30 and 60 minutes.
Travelers from Aberdeen (ABZ), Scotland to Halifax (YHZ), Canada who would like to explore Iceland may be able to extend their stopover to have time to indulge in the luxury spa facilities of Iceland's Blue Lagoon or enjoy an Americano or two in cozy and colorful, downtown Reykjavik.
The distance from Aberdeen Airport (ABZ) to Halifax International Airport (YHZ) is approximately 4,331 kilometers or 2,691 miles.
The full name of the airport is: Halifax Robert L. Stanfield International Airport. But it's often called Halifax International Airport. The airport is named after the 17th Premier of Nova Scotia, Robert Stanfield. Halifax International Airport is unusual in that it's one of a few locations along the east coast where NASA's space shuttle can land.
YHZ is located approximately 35 kilometers or 22 miles from central Halifax.
Halifax International Airport (YHZ) has 1 terminal, with three floors and 31 gates. Waiting to help you are 120 volunteers in tartan uniforms, trained in the airport's cultural course "The Stanfield Way."
Halifax International Airport is proud to be an international leader in customer service, securing first prize in the global Airport Service Quality program for a number of years.
What's stuðlaberg? On routes from Europe to Canada we want to share some fun facts about our home country, so we've put info about Iceland all around the plane, even naming food items after natural Icelandic wonders.
On flights from Aberdeen to Canada you can: learn to pronounce the odd Icelandic phrase, watch an Icelandic movie (we've been thoughtful and given you subtitles) and enjoy our invigorating, glacial water.
A complimentary warm meal for children is served on all Icelandair flights from Europe to Canada. And the packaging can turn into a kid's toy. Cool!
Relax on your trip to Halifax. Blankets & pillows are in every seat on European routes to North America - they even come with a sweet, Icelandic lullaby.
Treat yourself with Icelandair's Saga Class. Your experience begins with a trip to our elegant Saga Lounge and on board, there's gourmet dining and extra room and have you heard about our noise cancelling earphones? Divine.
The personal inflight entertainment system is available on nearly every flight from Aberdeen to Halifax and we've a great selection of programming for the whole family. Go ahead, let your little ones catch up with the adventures of Lazy Town.
Music lovers will want to check out our carefully crafted playlists. Sit back, chill out and enjoy!
Use Icelandair to fly from Aberdeen, Scotland to Halifax, Canada for your next vacation and you will have the distinct pleasure of flying the only airline in the world that names its planes after volcanoes. Now try to pronounce this one: Snæfell. Tricky? Try this: Snigh-fetl. Know what it means? Snow field. There. Now you speak Icelandic.
You can easily get from downtown Halifax International Airport (YHZ) by car, bus, or taxi (30-45 minutes).
Waters babies will want to check out the Maritime Museum. Learn about the history and romance of the sail boat, explore treasures from shipwrecks and discover all about one of the world's most famous passenger liners at the Titantic Exhibition.
Enjoy an inspiring visit to the Nova Scotia Crystal Factory where you can discover all about the hand blown techniques behind stunning glassware.
Need to recharge? Halifax has a treasure trove of nature to enjoy. Choose from biking on the coastal paths, getting on the water with a kayak or a charming wagon ride.

Share flights from Aberdeen to Halifax