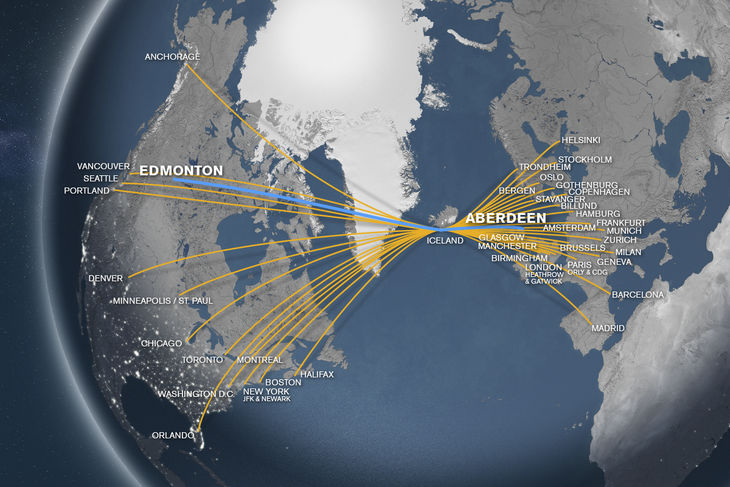 Are you searching for great, low cost flights from Aberdeen (ABZ), to Edmonton (YEG), Alberta, Canada? Icelandair has a range of low fares on North American flights for those flying to Halifax on a vacation or business trip. Organize your trip from Scotland to Canada, get those tickets, and fly from Aberdeen to Edmonton, Canada's Festival City! Travelling with Icelandair, a trusted airline with more than 75 years of experience, you can be confident about: our reliable on-time performance, our entertainment system that's fun for all the family and complimentary seat selection letting you choose where you'd like to sit. As an added bonus, you might learn a little Icelandic on your trip, too!
Cheap flights to Canada
Use Icelandair to fly from Aberdeen to Edmonton. On your travels, change planes in Iceland or why not stopover for a few days of relaxation or adventure in the Land of Fire and Ice? Explore Reykjavik's museums and art galleries and check out the latest in the Icelandic fashion and design scene. For those eager to explore Iceland's glorious outdoors, which will you choose? Quad biking, snowmobiling or river rafting? So wave "cheerio" to Aberdeen and get those tickets to Edmonton, on the banks of the North Saskatchewan River.
Adventure lovers will be at home in Alberta Aviation Museum. Flight simulators and interactive experiences let you take flight and actually board the Starfighter, a super speed jet that reached 800 meters per second. For a journey of a different kind into another universe check out Space Place at TELUS World of Science, where you can explore their 3D models, discover amazing things about the human body and control a robot at TELUS World of Science.
Check Icelandair's low cost European airfares from Aberdeen (ABZ) to Edmonton (YEG) and plan your vacation now!  
Enjoy a Stopover in Iceland! Why not break your travels with a short trip in Iceland?
Fly to Canada from Europe! Flying from Aberdeen to Edmonton, why not stopover in Iceland? You could simply change planes and be in and out of the airport in under an hour or spend a few extra hours and be good to yourself with a trip to the luxurious warm waters of Iceland's Blue Lagoon. Or, holiday up to 7 days at no extra charge and get up close to Iceland's bubbling mud pots and geysers, swim a few laps in our heated outdoor pools or enjoy happy hour and fine dining in Reykjavik.
Fly to Canada: ABZ to YEG airport info:
Make fast, easy connections with Icelandair.  Our flight network is set up to quickly change planes and connect to your onward flight. Flights from Aberdeen to Edmonton are scheduled so that stopovers in Iceland are between 30 and 60 minutes.
Travelers from Aberdeen (ABZ), Scotland to Edmonton (YEG), Canada who'd like to explore Iceland could extend their trip and enjoy a stopover. Explore our quaint fishing villages, relax on a farm stay holiday or rent a car and explore the island in your own good time.
The distance from Aberdeen Airport (ABZ) to Edmonton International Airport (YEG) is approximately 3,882 miles/6,247 km.
Edmonton International Airport (YEG) is just 14 miles southwest of central Edmonton and has one terminal building with north and south side facilities.
 
Travelling with kids? The airport has four play areas for little ones: in the US Departures lounge, the Domestic-International Departures lounge, the North Terminal Departures lounge and the Arrivals level opposite the Information Booth.
Throughout the airport look for the friendly, blue uniformed Airport Volunteer Ambassadors who are at hand to help you out.
Who is Ingólfur Arnarson and what's he got to do with napkins? On routes from Europe to North America, we want to share some cool facts about Iceland. So, we've put some info about our country around the plane, even naming food items after some Icelandic wonders.
On flights from Aberdeen to Edmonton you can: watch an Icelandic film *with or without subtitles, you choose!) enjoy an Icelandic donut and be refreshed by our world famous, glacial water.
A complimentary warm meal for children is offered on all Icelandair flights from Europe to Canada. And the packaging then turns into a kid's toy. Genius.
Relax on your travels to Edmonton. Complimentary blankets & pillows are available on every flight - they even come with a gentle, Icelandic lullaby.
Take to the skies and travel in style with Saga Class. Start with a relaxing, complimentary visit to our cozy Saga lounge for a buffet and full range of refreshments before enjoying extra room and extra privacy (just wait until your try our noise cancelling earphones. Bliss).
The personal inflight entertainment system is available on nearly every flight from Europe to Canada with films and wide range of the latest TV series to keep the whole family smiling. With over 150 hours of programs to choose from there's something for everybody.
Love your music? So do we! We're put together 40 albums and 7 unique playlists with sounds to soothe and get your feet tapping.
Use Icelandair to fly from Aberdeen to Edmonton for your next holiday and you will have the distinct pleasure of flying the only airline in the world that names its planes after volcanoes. Now, try to pronounce this one: Eyjafjallajökull. Bit of a mouthful? Try again. "AY-uh-fyat-luh-YOE-kuutl-uh" Easier? Now you speak Icelandic.
Travelling between downtown Edmonton and Edmonton International Airport is easy. You can go by SkyShuttle Service or the Edmonton Transit System (ETS) which provides an express service.
Live entertainment and a delicious chocolate fountain are just two of the fun features at Edmonton's Mayfield Diner Theatre.
Shoppers should check out Edmonton's 124 Street for a chilled spot of shopping. In addition to great stores, there's art galleries to explore and a host of cafes to rest those shopping weary feet.  
The world's second largest indoor amusement park, Galaxyland, delivers fun for all the family. It hosts The Mindbender roller coaster ride - guaranteed to quicken your pulse.
Share flights from Aberdeen to Edmonton