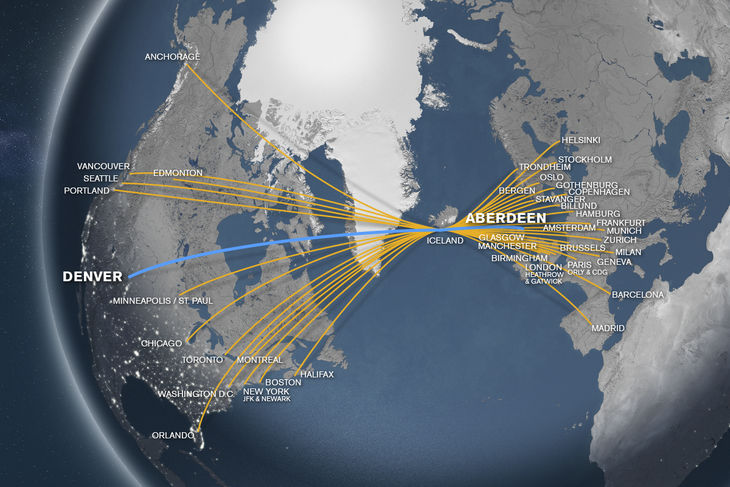 Are you searching for great, low cost flights from Aberdeen (ABZ), Scotland to Denver (DEN), Colorado, USA? Icelandair has a range of low fares on North American flights for those flying to Denver on a vacation or business trip. Organize your trip from Scotland to the States, get those tickets and fly from Aberdeen to Denver. When travelling with Icelandair, a trusted airline with more than 75 years of experience, you can be confident about: our reliable on-time performance, our entertainment system that's fun for all the family and complimentary seat selection letting you choose where you'd like to sit. As an added bonus, you might learn a little Icelandic on your trip, too!
Cheap flights to USA
Use Icelandair to fly from Aberdeen to Denver. On your way, stop for a little time in Iceland to change planes or break your journey with a few magical days in Iceland. Dreamed of swimming in our geothermally heated swimming pools? What about scuba diving in some of the world's purest waters? So wave "cheerio" to the Granite City and book flights to the great mile high city of Denver.
Looking to relax with the family? Check out Washington Park with over 165 acres of gardens and paths and two lakes with boats to rent. Or how about Denver's Children's Museum with its range of activities to entertain and inspire? And for beautiful things to look at visit Denver Art Museum, designed to echo the shapes of the Rocky Mountains, meaning there's bags of visual appeal both inside and out.
Check Icelandair's low cost European airfares from Aberdeen (ABZ) to Denver (DEN) and plan your vacation now!
Enjoy a Stopover in Iceland!
Fly to the USA from Europe! Flying from Aberdeen to Denver, why not stopover in Iceland? You could easily change planes and be in and out of the airport in under an hour or take a few extra hours and relax in the soothing, silky waters of the Blue Lagoon. Or, stay up to 7 nights at no extra charge and relax with a city break in Reykjavik or explore Iceland's stunning scenery by snorkeling, skiing or river rafting.
Fly to USA: ABZ to DEN airport info:
Make fast, easy connections with Icelandair.  Our flight network is set up to easily change planes and connect to your onward flight. Flights from Europe to North America are scheduled such that stopovers in Iceland are normally between 30 and 60 minutes.
Travelers from Aberdeen (ABZ), Scotland to Denver (DEN), USA who wish to explore Iceland may be able to extend their stopover to have time to be enchanted by our many magical waterfalls or learn all about Vikings in our museums and galleries.
The distance from Aberdeen Airport (ABZ) to Denver Airport (DEN) is approximately 4,373 miles/7,038km.
The airport in Denver is usually called Denver International or DIA. It's artfully designed roof reflects Colorado's snow-topped mountains and reflects the state's heritage when Native American teepees were a common sight across the Great Plains.
The terminal in Denver Airport (DEN) is called the Jeppesen Terminal, named in honor of Elrey Jeppesen, the aviation safety pioneer. Throughout the airport art lovers are in for a treat. Voted "Best U.S. Airport for Art" by USA Today in 2013, look forward to enjoying exhibitions, new commissions and permanent collections.
Denver Airport (DEN) is just 30 minutes travel from downtown Denver by public transport.
Who is Ingólfur Arnarson and what's he got to do with napkins? On routes from Europe to North America, we want to share gems about Iceland, so we've added info about our country all around the plane, even naming each food item after natural, Icelandic wonders.
On flights from Aberdeen to Denver you can: pick up a couple of Icelandic phrases, enjoy an Icelandic donut and experience our pure, glacial water.
A complimentary warm meal for children is served on all Icelandair flights from Europe to the USA. And the packaging changes into a kid's creative toy. Cool.
Enjoy your tip to Denver in comfort. Blankets & pillows are in every seat on European routes to North America - they even come with a lovely, Icelandic lullaby.
Pamper yourself with Icelandair's Saga Class. The magic begins with a complimentary visit to our Saga lounge for a buffet and refreshments before enjoying extra room and privacy on board with our noise cancelling earphones. Bliss.
The personal inflight entertainment system is available on nearly every flight from Europe to the US and is packed with programs to make the whole family smile.
Music lovers will be tickled pink by our 40 albums and 7 unique playlists in our system.
Use Icelandair to fly from Aberdeen to Denver for your next vacation and you will have the distinct pleasure of flying the only airline in the world that names its planes after volcanoes. Now, try to pronounce this one: Eyjafjallajökull. Tricky? Try again. "AY-uh-fyat-luh-YOE-kuutl-uh" A bit easier? Viola! You now speak Icelandic.
From Denver City center, you can get to Denver International Airport (DEN) by taking SkyRide, Denver's Regional Transportation District's airport bus line that collects from many bus stops and Park-n-Rides 365 days of the year.
Suffragette, social reformer and Titanic survivor, Molly Brown, is celebrated and honored in the Molly Brown House Museum which offers tasty treats of traditional teas and dinners for you to indulge in, too.
For exhilaration of a different kind whilst in Denver you'll want to check out the beer scene. Denver brews more beer than any other city in the U.S. and there's a huge selection on offer from coffee beer to chocolate beer or just good, old, American beer.
Looking for the view of views? Drive up Mount Evans Scenic Byway. Passing trees, lakes and forests, you'll climb over 9.000 feet and through 5 climate zones to the 14,264 ft. summit that will make you feel you're on top of the world.
Share flights from Aberdeen to Denver