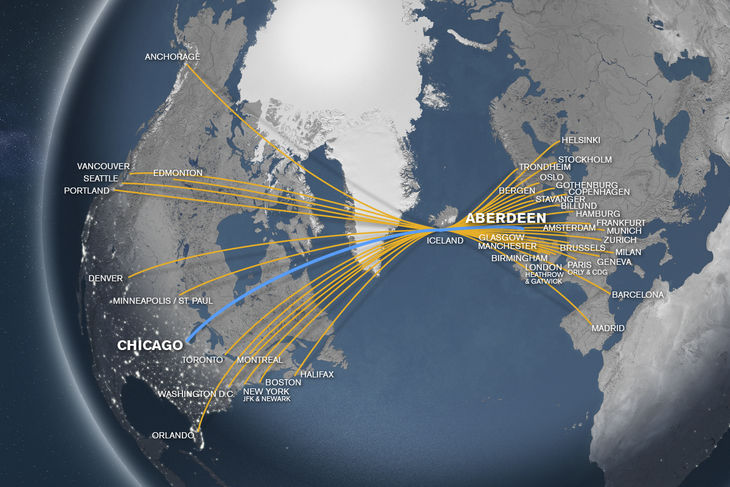 Book that trip from Aberdeen (ABZ), Scotland to Chicago, Illinois, (ORD), USA. Icelandair offers you great prices for those travelling on business or vacation from the Granite City in Scotland. Organize your trip from Scotland to the States, book your tickets and fly from Aberdeen to the Windy City. Icelandair has been a trusted airline for over 75 years, so when you travel with us you can be assured of our quality range of services: our punctual on-time performance, our special services for young travelers with complimentary food and toy and letting you choose your seat with our complimentary seat selection. We also like to throw in a few extras and so you can look forward to learning a little local Icelandic lingo on your flight.
Cheap flights to USA 
Use Icelandair to fly from Aberdeen to Chicago, Illinois. On your way, stop briefly in Iceland to change planes or why not give yourself a bit of a treat and enjoy an Icelandic stopover stopover? Get to know our friendly neighbors on a puffin watching trip, feel on top of the world on one of Iceland's largest glaciers volcano or dress to impress in Reykjavik's top restaurant scene. So wave "cheerio" to Aberdeen's Union Street and get your flights to Chicago, The Second City.
For a great day out, Lincoln Park on the shores of Lake Michigan is Chicago's largest park and hosts a zoo, playgrounds, theater and conservatory. For those that want to travel a little further how about America's first planetarium, the Adler Planetarium? It has three full sized theatres showing a host of shows in addition to lectures and exhibitions to take you to another universe.
Check Icelandair's cheap European airfares from Aberdeen (ABZ) to Chicago (ORD) and plan your vacation now!  
Enjoy a Stopover in Iceland! Why not break your travels with a short trip in Iceland?
Fly to the USA from Europe! Flying from Aberdeen to Chicago, why not stopover in Iceland? You could simply change planes and be in and out of the airport in under an hour or take a few extra hours and recharge and relax in the Blue Lagoon. Or, stay up to 7 nights at no extra cost and escape to the countryside for a farm stay break and for those seeking greater heights, trek on a glacier or take a helicopter tour. 
Fly to USA: ABZ to ORD airport info:
Make fast, easy connections with Icelandair.  Our flight network is set up to easily change planes and connect to your onward flight. Flights from Europe to North America are scheduled so that stopovers in Iceland are normally between 30 and 60 minutes.
Travelers from Aberdeen (ABZ), Scotland to Chicago (ORD), USA who wish to explore Iceland may be able to extend their stopover to have time to experience the geothermal wonders of our soothing hot springs and visit our bubbling mud pools and ancient lava fields.
The distance from Aberdeen Airport (ABZ) to Chicago O'Hare International Airport (ORD) is approximately 3,706 miles/5,964 km.
O'Hare Airport was originally called Orchard Field Airport and in 1949 was renamed O'Hare International Airport, in honor of Edward O'Hare, the U.S. Navy's champion flying ace who received the Medal of Honor in World War Two.
This Illinois airport is often just called "O'Hare" and is 17 miles northwest from Chicago's business district, known as "The Loop." To travel between the airport and downtown Chicago, you can take the "L" train from underground stations in Terminals, 1, 2 and 3.
Did you know that Chicago O'Hare Airport has the largest airport apiary in the world? The honey from their 1 million bees makes their "Sweet Beginnings" food and skincare products which you can buy at The Farmer's Market in Terminal 3 Rotunda.
Who is Ingólfur Arnarson and what's he got to do with napkins? On routes from Europe to North America, we want to share fun facts about Iceland, so we've added glimpses of info about our country all around the plane, even naming each food item after natural, Icelandic wonders.
On flights from Aberdeen to Chicago you can: pick up an Icelandic phrase or two, savor a tasty Icelandic donut and sip our invigorating, glacial water.
A complimentary warm meal for children is offered on all Icelandair flights from Europe to the USA. And the packaging can turn into a kid's toy. Cool.
Relax on your flight to Chicago. Blankets & pillows are in every seat on European routes to North America - they even come with a pretty, Icelandic lullaby.
For a magical trip Fly Saga Class. Enjoy a complimentary visit to our comfy Saga lounge for refreshments and snacks before enjoying extra leg room and extra privacy on board. And wait until you experience our noise cancelling ear phones. Guaranteed "me" time.
The personal inflight entertainment system is available on nearly every flight from Europe to the US and it has programming for all the family's viewing. Go ahead, let your kids catch up on the colorful adventures of Lazy Town.
We've a great choice of music for you with 40 albums and 7 unique playlists.
Use Icelandair to fly from Aberdeen to Chicago for your next vacation and you will have the distinct pleasure of flying the only airline in the world that names its planes after volcanoes. Now, try to pronounce this one: Eyjafjallajökull. Tricky? Try again. "AY-uh-fyat-luh-YOE-kuutl-uh" Better, yes? Viola! Now you can speak Icelandic.
From Chicago City center and The Loop, you can get directly to Terminals 1, 2 and 3 in Chicago O'Hare International Airport (ORD) by taking the Blue Line on the fast and efficient "L" train.
The Chicago Lakefront Trail has over 18 miles of pedestrian and cycle friendly paths. It takes in beaches, museums and harbors and has wonderful views of the Chicago skyline.    
Check out The Museum of Science and Industry. Perfect for minds that love to learn and explore exhibits in space, design and the world of robots.
Shoppers will adore The Magnificent Mile with its 460 shops, 275 restaurants and 51 hotels.
Share flights from Aberdeen to Chicago