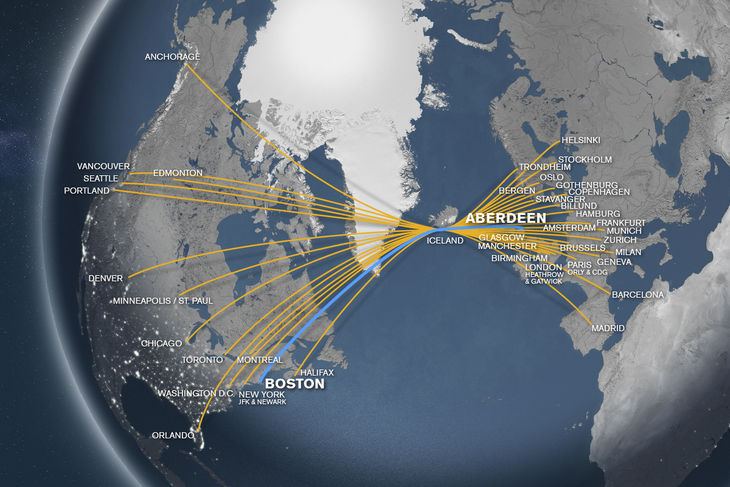 Book that trip from Aberdeen (ABZ), Scotland to Boston (BOS), Massachusetts, in the US. Icelandair offers you great prices for those travelling on business or vacation from the Granite City. Organize your trip from Scotland to the States, book your tickets, and fly from Aberdeen to Boston, home of the Red Sox. Icelandair has been a trusted airline for over 75 years, so when you travel with us you can be assured of our quality range of services: our punctual on-time performance, our special services for young travelers with complimentary food and toy for children and we also let you choose your seat – at no extra cost. To add a cherry on top we throw in a few extras - so you can look forward to learning a little local Icelandic lingo on your flight.
Cheap flights to USA
Use Icelandair to fly from Aberdeen to Boston. On your way, stop briefly in Iceland to change planes or stay a few days and get to know the Land of Fire and Ice. Chill out and enjoy Reykjavik's cafes and cool concept stores. Itching to explore? Climb a volcano, ski across a glacier or how about snorkeling in some of the world's clearest water? So wave "cheerio" to Aberdeen and get those tickets to fly to Boston. Soak up the charm and elegance of one of the world's most established seats of learning, Harvard University, and explore Harvard Yard and Harvard Square. For those that can't decide between sport, dancing and theatre, why not combine them and experience the disco Shakespeare extravaganza or a Red Sox themed musical at the American Repertory Theatre?
Check Icelandair's cheap European airfares from Aberdeen (ABZ), Scotland to Boston (BOS), in Massachusetts and plan your vacation now!
Enjoy a Stopover in Iceland!
Fly to North America from Europe! Flying from Aberdeen to Boston, why not stopover in Iceland? You could simply change planes and be in and out of the airport in under an hour or take a few extra hours and soak in the soft, silky waters of the Blue Lagoon. Or, stay up to 7 nights at no extra cost and sail amongst icebergs on a glacial lagoon, white water raft on a glacial river or horseback ride on a volcanic beach. 
Fly to USA: ABZ to BOS airport info:
Make fast, easy connections with Icelandair.  Our flight network is set up to easily change planes and connect to your onward flight. Flights from Europe to North America are scheduled such that stopovers in Iceland are normally between 30 and 60 minutes.
Travelers from Aberdeen (ABZ), Scotland to Boston (BOS), The United States who wish to explore Iceland may be able to extend their stopover and have time to relax in the restorative Blue Lagoon or treat your taste buds with Reykjavik's fine dining.
The distance from Aberdeen Airport (ABZ) to Boston International Airport (BOS) is approximately 3,085 miles/4,965 km.
In Boston, the airport is usually called Boston International Airport. It's also knows as Logan International Airport and its full name is General Edward Lawrence Logan International Airport.  
Boston International Airport (BOS) has 4 terminals and 6 hubs and is the main transport point for the New England area.
Boston International Airport (BOS) is very close to Boston, being less than 7km north east of the Boston downtown area.
Who's Leifur Elríksson? On routes from Europe to North America, we want to share some fun facts about our home, so we've added little bits of info about our country all around the plane, even naming each food item after natural, Icelandic wonders.
The average flying time for flights from ABZ to BOS is X.
On flights from Aberdeen to Boston you can: watch an Icelandic movie (don't worry, we've given you subtitles), treat yourself to an Icelandic donut and even enjoy some of our delicious, glacial water.
A complimentary warm meal for children is offered on all Icelandair flights from Europe to North America. And the packaging changes into a kid's toy. Genius.
Relax on your trip to Boston. Blankets & pillows are in every seat on European routes to North America - they even come with a gentle, Icelandic lullaby.
For a little piece of luxury, fly Saga Class. Cuddle up in your own duvet and get a great night's sleep with our noise cancelling earphones. Wake up refreshed and good to go.
The personal inflight entertainment system is available on nearly every flight from Europe to North America and it offers a full range of programming to make the whole family smile.
Want to listen to some terrific music? We've a brilliant selection of the latest sounds from reggae to rock and everything in between.
Use Icelandair to fly from Aberdeen, Scotland to Boston, in the United States for your next vacation and you will have the distinct pleasure of flying the only airline in the world that names its planes after volcanoes. Now, try to pronounce this one: Eyjafjallajökull. Trip over your tongue? Let us help. Try again: "AY-uh-fyat-luh-YOE-kuutl-uh." Wonderful! You're almost Icelandic.
From Boston city center, you can get to Boston International Airport (BOS) by taking the subway on the Blue Line from downtown Boston, the Silver Line bus service from Braintree, Framingham, Peabody and Woburn or if you want to avoid traffic, take a water shuttle from downtown.
Visit the colorful creatures from the deep at the 200,000 gallon New England Aquarium.
Take in a tour of Fenway Park, home of the Red Sox, watch a baseball game or perhaps just have beer in The Bleacher Bar, right inside Boston's Fenway Park. 
Get to know Boston's heritage and explore the Black History Trail, Boston's 14 sites that capture 19th century Boston.
Share flights from Aberdeen to Boston