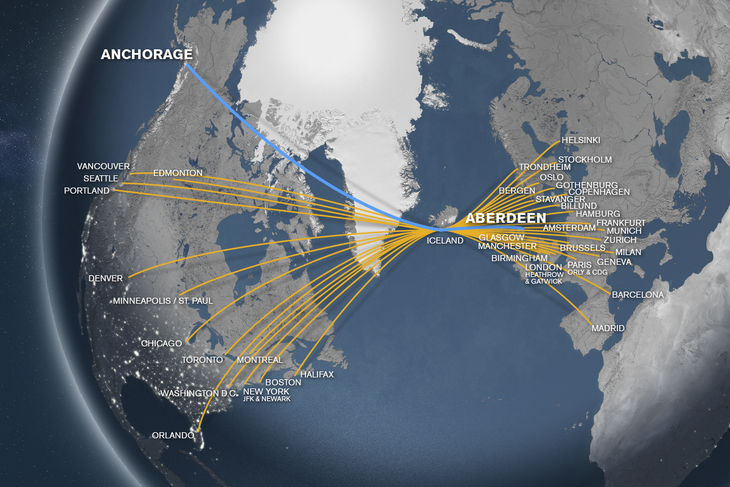 Buy your flight from Aberdeen (ABZ), Scotland to Anchorage (ANC), Alaska, USA. Here at Icelandair we offers low fares on North American flights for travelers from Europe flying for pleasure or business. Plan your trip from Scotland to North America, book your flights and fly from the Granite City to Anchorage! Icelandair has over 75 years' experience and when you travel with us you'll have the pleasure of: our punctual performance, complimentary seat booking and a top notch entertainment system.  And then, of course, you might even pick up a few Icelandic phrases, into the bargain.
Cheap flights to USA 
Use Icelandair to fly from Aberdeen to Anchorage. On your travels, change planes in Iceland or why not stopover and explore the magic of Iceland? If stunning scenery, hot springs and waterfalls are your thing then you'll love the Golden Circle tour. For those wanting to relax, cozy Reykjavik is an ideal place for a weekend getaway. There are colorful streets, a cool coffee culture and a choice of cafes and fine dining, all set against a mountain range set right on the Atlantic. So say "cheerio" to Aberdeen and buy your flights to the great Alaskan wilderness in Anchorage.
Nature lover? For some of the world's most pristine and prized nature you're spoiled for choice with Denali National Park, Prince William Sound, Kenai Fjords National Park and Chugach State Park. Which will you explore first? And for some laid back culture and a fabulous opportunity to get to know the locals, take in a First Friday Art Walk, where cafes, galleries and local art haunts stay open late offering tasty treats, drinks and beverages for visitors.
Enjoy a Stopover in Iceland! Why not break your travels with a short trip in Iceland?
Fly to the USA from Europe! Flying from Aberdeen to Anchorage, Alaska, why not stopover in Iceland? You could quickly change planes and be in and out of the airport in less than an hour or take a few extra hours and soak in the soothing, silica waters of the Blue Lagoon's warm waters. Or, stay up to 7 days at no extra cost and marvel at the dancing neon Northern Lights, explore the icy world of a glacier by snow mobile or relax in the city and check out Reykjavik's museums and galleries.
Fly to USA: ABZ to ANC airport info:
Make fast, easy connections with Icelandair.  Our flight network is set up to easily change planes and connect to your onward flight. Flights from Aberdeen to Anchorage are scheduled so that stopovers in Iceland are roughly between 30 and 60 minutes.
Travelers from Aberdeen (ABZ), Scotland to Anchorage (ANC), USA who want to experience Iceland could extend their trip and enjoy a stopover. Choose your very own lopopeysa, try some Icelandic skyr or take to the skies in a helicopter tour.
The distance from Aberdeen Airport (ABZ) to Anchorage International Airport (ANC) is approximately 4,072 miles/6,553 km.
Ted Stevens Anchorage International Airport was named after Ted Stevens, the U.S. Senator from Alaska who served from 1968 to 2009.
The south terminal in Anchorage International Airport (ANC) is for domestic flights and the north terminal is for international flights. A shuttle bus runs every 15 minutes from the south terminal to rental car facilities and a shuttle service is available on a demand basis from the north terminal.
Anchorage Airport (ANC) is just a short taxi or bus ride from downtown Anchorage. "The People Mover" a public bus service, leaves the airport roughly every 30 minutes to travel downtown.
Who is Ingólfur Arnarson and what's he got to do with napkins? On routes from Europe to North America, we want to share a few things about Iceland, so we've placed some info about our country all around the plane, even naming each food item after natural, Icelandic wonders.
On flights from Aberdeen to Anchorage you can: sit back and enjoy an Icelandic movie (with or without subtitles, the choice is yours), munch on an Icelandic donut and drink our delicious, glacial water.
A complimentary warm meal for children is served on all Icelandair flights from Europe to the USA. And the packaging changes into a kid's creative toy. Cool.
Relax on your travels to Anchorage. Complimentary blankets & pillows are available on every flight - they even come with a cute, Icelandic lullaby.
Travel in style with Icelandair's Saga Class and begin your trip with a complimentary visit to the super comfy Saga lounge for delicious snacks and a chilled glass of something before enjoying extra leg room and extra space on board.
The personal inflight entertainment system is available on nearly every flight from Europe to the States and it offers a full selection of films, series and music for you and your family.
Music lover? You're in for a great journey on Icelandair with 40 albums and 7 unique playlists to match every musical taste.
Use Icelandair to fly from Aberdeen to Anchorage for your next vacation and you will have the distinct pleasure of flying the only airline in the world that names its planes after volcanoes. Now, try to pronounce this one: Eyjafjallajökull. Tongue twister, yes? Try again. "AY-uh-fyat-luh-YOE-kuutl-uh" A bit easier? There. Now you can tell people you speak Icelandic.
From Anchorage City center, you can get to Anchorage International Airport (ANC) by taking the People Mover public bus from a number of downtown stops or from locations at the Dimond Center, Alaska's largest enclosed shopping mall.
To learn about Alaska's cultural heritage and its 50,000 Alaskan native people, check out the most popular public event the "Quyana Alaska" featuring native dance groups throughout the state.
Travel 5,700 feet up in the chairlift on the Alyeska Aerial Tram and enjoy a leisurely lunch at the summit overlooking this chocolate box of a view.
For terrific storytelling, live music and a hearty dinner where colorful characters from old come to life, book yourself a table at Alaska Cabin Nite Dinner Theater. Famous heroine Fannie Quigley and friends perform Gold Rush tales from 1900s Alaska. 
Share flights from Aberdeen to Anchorage